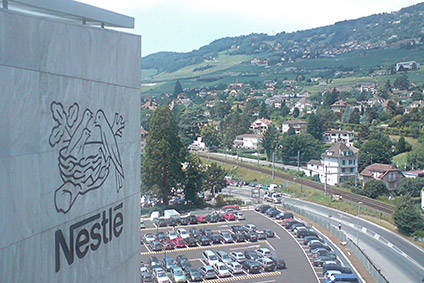 The results for 2015 continued to come in this week, with Nestle and Arla Foods among the companies publishing their performance. There was fresh speculation in the UK over the future of the Fox's and Philadelphia brands. And, in the US, a key date in the industry calendar, the Consumer Analyst Group of New York conference, took place in Florida, with a number of the major names in the sector outlining how they are navigating a sector going through a period of profound change. Click on the headlines for the stories in full.
Nestle's shares fell yesterday (18 February) after the world's largest food maker missed analyst expectations on sales and trading operating profit – and disappointed with its guidance for this year. The company's so-called Nestle Model calls for annual sales to grow 5% on an organic basis but the company fell short of that target again in 2015. The group's forecast for 2016 sales was also lower than its "model", although some in the analyst community viewed the target for this year as more realistic. Broadly, however, Nestle's forecasts for 2016 were below what analysts had expected. Here's a flavour of how analysts have viewed the KitKat-to-Maggi owner's numbers.
Boparan Holdings has reportedly started talks with fellow UK group Burton's Biscuit Co. over the possible sale of Fox's Biscuits.
Mondelez International reportedly expects to start the sale of its European grocery business, including the Philadelphia cream cheese brand, next month.
Campbell Soup Co. has detailed plans to launch an investment vehicle that will support the development of high-growth start-up food companies.
Mondelez International plans to look at how it spends money with retail partners in more markets after seeing moves to "optimise" expenditure in countries including Germany and India pay off.
Israeli food group G. Willi-Food has said it has been accused of breaching domestic "securities laws" and unspecified "criminal offences" as part of a probe that has seen the group's chairman and controlling shareholder Gregory Gurtovoy detained by the authorities.
The EU and Mexico have announced talks to deepen their already close trading relationship by negotiating a bilateral agreement on importing and exporting organic products.
Arla Foods reported lower sales and earnings for 2015 in what the group termed a "robust" performance against difficult conditions for the global dairy sector. 
TasFoods, the newly-formed Australian food group, has struck its second deal in a matter of months, moving to buy local processor Nichols Poultry.
Belgian-based retailer Sligro Food Group is expanding its drive into the foodservice sector with the acquisition of the entire share capital of Bejaco and its subsidiaries Java and Freshtrans, jointly known as Java Foodservice, from the Claes family.