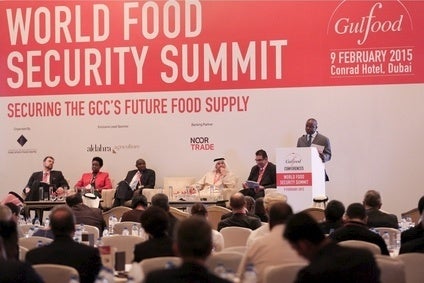 Food security is a much-debated issue, amid geopolitical problems, heightening concerns over climate change and rising consumption in emerging markets. It's no surprise then the topic was one of the key areas of discussion at this year's Gulfood 2015 expo in Dubai. Looking just at the Middle East, the arid desert region has a heavy reliance on imports as it is unable to grow much of its own food. The matter is not helped by a quickly growing population demanding more food. A group of agricultural and food manufacturing executives took to a panel hosted at the Hilton Conrad in Dubai to discuss what their businesses are doing, and what more needs to be done, to tackle global food safety concerns.
"Security of food supplies is the foundation of a stable and safe society. Food security is particularly important for the Gulf and wider Middle East because of rapidly increasing population, a dearth of arable land and the shortage of water. These factors are not going to change – so we need to mitigate them with strategic solutions planned well ahead of time" – Essa Al Ghurair, chairman of UAE-based agribusiness Al Ghurair Resources.
"By 2050, the global population will be over nine billion strong and food demand will increase by 60%. To tackle this critical issue, we need a sufficient agriculture workforce to incentivise our youth to stay on the farm; we must maximise production on arable land; we must invest in new technologies to increase production; we must explore feasible and sustainable solutions to climate change-related issues, such as water supply; and we must improve the value chain to reduce post-harvest crop losses and waste. These five areas are of paramount importance when exploring food security policy" – HE Felix Koskei, Kenyan Cabinet Secretary for Agriculture, Livestock and Fisheries.
"The research we have says its much more – 70% up to 100%, it shows it still means there is a lot more requirement – futures of private companies like Mondelez are absolutely reliant on working with our countries in Africa, our partners in Africa and other parts of the world to secure food for the future" – Alan Smith, managing director for the Gulf and Pakistan at Mondelez International.
"We also believe science must become local wisdom and enable farmers not just with knowledge but also tools to improve on their livelihoods and solutions must be sustainable -there are no quick fixes" – Amin Khayyal, general manager for the Middle East and north Africa at DuPont.
"Food security progress requires sustainable, long-term solutions and in terms of effective, responsible and ethical agro-investment, the UAE has merged the private-public sector divide very well. The UAE is in the corridor of many major producing countries and consuming countries. The UAE can facilitate the passage of food between Africa and Asia. It can be a win-win case for the producing country and the exporting country" – Khadim Abdullah Al Darei, vice chairman of UAE-based agribusiness Al Dahra Agriculture.
"When you are investing in farming what you want to know is do I have a secure income with the cocoa that I produce, is it going to reward? What we do is commit not to only buy certain volumes but also pay a fixed premium for those volumes which means the producer has the financial security to know they will get a return on the investment and the commitment of their time into that farm" – Mondelez's Smith.
"We are witnessing a lot of demand coming from a lot of companies dealing with food products in terms of importing agri-stuff from outside" – Rayan Qutub, CEO, Industrial Valley at Emaar, the Economic City, a company developing the King Abdullah Economic City in Saudi Arabia.
"Transforming our agricultural supply chains is an essential foundation for a sustainable future and a key focus for food companies should be to employ innovative agricultural solutions and invest in commodities to ensure food security. We need to tackle food security for all in an environmentally sustainable way, while generating economic growth and opportunity" Mondelez's Smith.
"Engaging and educating youth is one of the aspects that is also important to us because it has to do with education when it comes to food security. It starts when we are really young" – DuPont's Khayyal
"Education should be provided both to children and to adults, especially in a society where food is plenty and one tends not to think about the countries where food losses are occurring" Quintin Gray, the agricultural counsellor at the US consulate in Dubai.