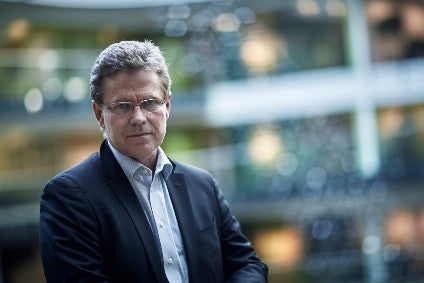 A key date in the US calendar, the Consumer Analyst Group of New York conference, took place this week in Florida, with a number of the major names in the sector outlining how they are navigating a sector going through a period of profound change. Elsewhere, results for 2015 continued to come in, with Nestle and Arla Foods among the companies publishing their performance. Click on the links for the stories behind the quotes.
"The global dairy industry has rarely been as tough and unpredictable, and 2015 has unfortunately been as challenging as we anticipated. We have an extremely difficult task ahead of us in 2016 as global milk supply still exceeds demand. We do expect that the global market will begin to turn for the better towards the end of 2016" – Arla Foods CEO Peder Tuborgh, reporting the co-op's annual results, says trading conditions in the dairy sector could improve later in the year.
"It's not a Hail Mary pass; there are a set of structured thoughts behind how we get this business back to growth. Pace is always going to be a challenge for us. I think we are doing the right thing. How quick it all comes may be a challenge but we are not talking one year or another year here, we are talking quarter to quarter how it [growth] comes back" – Paul Norman, the head of Kellogg's operations in North America, tells the CAGNY investment conference the company has put the wheels in motion for recovery at under-pressure unit Kashi.
"We continue to believe that Nestlé has to accelerate its optimisation of capital allocation, divesting under-performers, and re-allocating the resources to the champions. The competition has increased in the past months, both on local and global levels" – Vontobel analyst Jean-Philippe Bertschy after Nestle reported 2015 results and 2016 guidance that fell below expectations.
"We believe that defining the future of real food requires new approaches, new business models, smart external development and an ecosystem of innovative partners" – At CAGNY, Denise Morrison, Campbell Soup Co.'s CEO, explains why the company has set up a vehicle to invest in food start-ups.
"We have shifted our current commodity focus outside of the US in order to realise our potential, and it starts with the consumer. We're moving from simply supplying customers to meeting consumer needs. And we're moving from a past focus of how do we take what we do here and make it work there, to there as our starting point" – Sally Grimes, the head of Tyson Foods' international business, explains how the US meat group has changed the way it views doing business in China and India, its two key international markets.
For our full coverage of this week's Consumer Analyst Group of New York conference, featuring Kellogg, Campbell, General Mills and more, click here.
"These are important steps in the consolidation of best practices and in the global development of our businesses and our brands" – Wesley Batista, CEO of Brazil-based meat giant JBS, announces the company's moves to revamp its management structure.
"A food revolution is underway as people switch from Big Food to healthier, more sustainable alternatives. We have only just seen the beginning of a long term trend and we are in a unique position to contribute to its development" – Christophe Barnouin, the CEO of Wessanen, suggests the Dutch group can exploit the changes taking place in the market.
"The European organic sector continues to be one of our most dynamic production sectors and Mexico has great potential in developing opportunities for organic farmers and businesses" – Phil Hogan, the EU's Agriculture Commissioner, announces the start of talks with Mexico over a possible trade deal on organic products.
"The result is three certified organic varieties with superior ingredient quality, lower sugar content, dramatically better taste, competitive price points, and all with the same Annie's personality parents loved our first go-around" – John Foraker, the president of General Mills' Annie's business, reflects on the unit's latest attempt to enter the US cereal business.
"We can now say for certain that organic farming makes organic food different" – Helen Browning, the chief executive of UK certification body The Soil Association, welcomes a Newcastle University study that claimed organic meat and dairy products offer nutritional benefits.