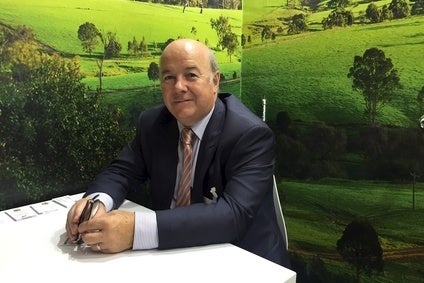 This week, Kerry Group CEO Stan McCarthy advised the market to expect a number of M&A deals from the Irish group in 2015. We caught up with the CEO of Australian dairy Bega Cheese, who talked about last year's much talked about takeover battle for Warrnambool Cheese and Butter Factory. Elsewhere, Podravka and Billy Sims China-Food Group advised of developments in China, and Mondelez International announced the closure of a plant in Ireland.
"When the value perceived by somebody else is far greater than we perceive, then we are quite willing to take their value equation and turn it into cash for our business" – Aidan Coleman, CEO of Bega Cheese, talks of why Bega chose to sell its stake in WCB and pull out of the race to acquire it.
"Our pipeline is extremely strong. I would be very surprised and subdued if we don't exercise a significant number of acquisitions through the course of 2015" – Stan McCarthy, CEO of Kerry Group says M&A is an expectation for the next year.
"I can confirm the regulator is currently examining a case concerning dairy products and expects to make its decision (on the case) public several weeks from now. And only at that time will we be able to speak about it" – France's competition regulator, the Autorité de la Concurrence, confirms it is to make a decision "in weeks" on an 2012 investigation into an alleged price-fixing cartel among a number of yoghurt producers including Senoble, Lactalis and Yoplait.
"The strategy of the Podravka Group is further internationalisation and we find the regions of MENA, Africa and China to be very potent ones" – a spokesperson for Croatian food group Podravka confirms it is to start selling products in China through new local offices by the third quarter of the year.
"Now that we are close to reaching our internal goal of 100% Non-GMO Project Verified and/or USDA Organic certified on our brands this further shows our commitment to making products that consumers feel good about eating and sharing with their whole family" – A spokesperson for Post Holdings says its Attune Foods has committed to moving its granola, cereal and snack products to a GMO-free or USDA-certified organic footing by the end of 2016.
"In addition to milk powder, the Food Group will partner with other companies to establish a food hub to manufacture snack foods, soft drinks and a private-labelled salad dressing for the Chinese market" – David Coleman, president and CEO of Billy Sims-China Food Group elaborates on plans to start exporting whole milk powder and skim milk powder to China starting in early 2015.
"The net potential financial impact is… impossible to ascertain at this early stage, although it is possible that ultimately the impact could prove to be material" – Patties Foods says though too early to predict the financial significance of its recall of frozen berries associated with a hepatitis A outbreak in Australia, the incident could have a "material" impact on profitability.
"Our gum ingredient factory in Tallaght faces too many production cost challenges to be sustainable and, following the development of new, superior technology which is only suited for co-location with a finished gum plant, regrettably we see no alternative to the proposal to close this plant" – Mondelez International confirms it is to shut an Irish plant and streamline two more, saying chocolate production costs in Ireland are currently "more than twice that" of Mondelez factories in other locations.
"More than 3,000 samples of fresh whole chilled chickens and packaging have now been tested. Data continue to show variations between the retailers but none is meeting the target for reducing campylobacter" – The Food Standards Agency in the UK says the number of supermarket chickens sold contaminated with campylobacter has risen.
"The group is focused on continuing to grow the business and is actively pursuing a promising number of attractive acquisition opportunities" – Fyffes says it is exploring M&A options following losing out on the takeover battle for Chiquita Brands International last year.