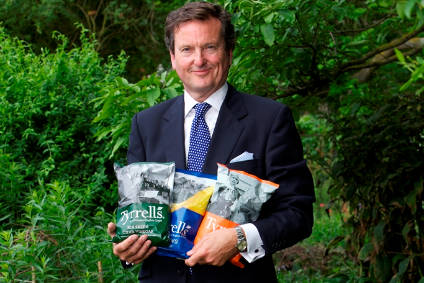 Belgium this week announced plans to lower the country's calorie intake, the latest nation to announce a plan devised by government and industry. In the US, Hostess Brands LLC made its fits acquisition since the business was formed from the rump of the old Hostess Brands. We ran part two of our interview with Tyrrells CEO David Milner and, on our analysis pages, published a deep-dive into what the possible Translatic Trade and Investment Partnership could mean for the food sector, while e-commerce consultants Profitero explained what the launch of AmazonFresh in the UK could mean for food manufacturers.
"We will monitor next year, but the 5% is ambitious in a competitive international context. We can't afford to introduce new products the consumer doesn't like" – a spokesperson for FEVIA, Belgium's food manufacturing association, defends the country's target of cutting calorie intake by 5% by the end of 2017.
"The playing field is decidedly tilted toward the EU. US suppliers to Europe face far greater barriers to trade and risk of requirements shifting than do EU suppliers to the United States, and given the EU's TTIP efforts, the bloc is looking to make it even more lopsided" – Tom Suber, the president of the US Dairy Export Council, argues current trade arrangements between the US and the EU are weighted against the Americans.
"Amazon's approach to local online grocery will by necessity do away with the "endless aisle", placing greater value on suppliers' category and market expertise" – Keith Anderson, vice president of strategy and insights at e-commerce consultants Profitero, reflects on what Amazon's latest offensive could mean for the industry.
"There will be a lot to learn from this trial programme. We know the brand, sales platforms and product formats will need to evolve to suit consumers' changing needs. But it is critical to get into the take-home segment early, get our systems up and running and learn what consumers want so we can quickly capture opportunities as they emerge" – Kim Ballinger, director for Fonterra's ice cream business Tip Top, on the dairy giant's decision to dip its toe into China's ice cream sector.
"We decided early on to use refrigeration to help extend shelf life for products like our soups and salad dressings. Where necessary, we've relied on natural preservatives – such as rosemary extract – to do the job" – Sara Burnett, director of wellness and food policy at Panera Bread, outlines how the US bakery-cafe chain simplified the recipes for the packaged food lines it sells in retail stores.
"We are now calling for the scientific community across the world to come together and develop whole grain intake guidelines. We believe that these will ultimately help consumers to make healthier dietary choices" – Julie Foster, a nutritionist at Cereal Partners Worldwide's UK arm, explains why the venture between Nestle and General Mills has called for scientists to develop global guidance on how much whole grain consumers should eat.
"You're spot on. We try hard there and we do have success but you can't be a part-time competitor in North America. It's the biggest market in the world. It's the most competitive market in the world. If you're going to win there, you've got to be on the ground" – Tyrrells CEO David Milner concedes the UK crisp maker would need to acquire a business in the US to take its business in the market to the next stage.
"We are now working alongside our suppliers and customers to bring this commitment to life" – a spokesperson for Mars, which is said to be weighing up whether to remove some of its confectionery products from desserts sold by US foodservice chains, declines to comment on the claims – but says the M&M's maker stands by its pledge to limiting the added sugars in its products.
"What makes you successful in one period does not make you successful in the next. I want us to be successful again in the future" – Fiddes Payne CEO Norman Brodie tells just-food the UK cake kit-to-seasonings supplier has been working on a five-year plan to improve its fortunes.
"This is powerful opportunity to extend Hostess's brand equity across categories, segments and channels, while capitalising on the upward indulgence trend in the baked goods arena" – Hostess Brands LLC CEO Bill Toler explains the US cake maker's move for local in-store bakery company Superior Cake Products.