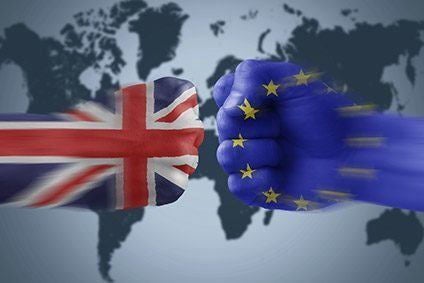 This morning, the UK awoke to news it has voted to leave the EU, perhaps the most significant event in the country since the end of World War II. Political and economic commentators are trying to digest what it could mean for the country and for business but some initial thoughts on the potential impact on the food sector are coming in. Elsewhere, this week Kellogg became the latest US group to set up an investment vehicle to back up-and-coming food makers. Meanwhile, in Europe, there was criticism of France's origin label plans.
"Overall, while there are now downside risks, we maintain our central scenario that agricultural commodities have bottomed after four years of weakness, which should help the pricing component of organic sales. Given likely sterling weakness and pressure on UK/Irish exporters, this could potentially trigger more M&A in the space, given the emergence of the 3G business model of M&A and cost cutting-led earnings growth in North American food" – Jon Cox, head of European consumer research at advisory firm Kepler Cheuvreux, outlines the possible impact on M&A in the food sector from Brexit.
"As consumer preferences move toward more diverse tastes and trends, the pace of innovation in the packaged food industry continues to intensify" – Kellogg vice chairman Gary Pilnick explains the US giant's decision to set up investment vehicle Eighteen94 Capital to back "next-generation innovation" in the sector.
"This would be a serious blow to the EU single market" – FoodDrinkEurope, the pan-Europe industry association, has hit out at France's plans for country-of-origin labels for the meat and dairy ingredients used in processed food.
"We would simply observe that the company could potentially raise its bid while still preserving some modest benefit from multiple arbitrage. Furthermore, we frankly see the quality of the Lamb Weston business as likely above average versus Post's legacy portfolio, particularly since its capabilities could prove helpful to Michael Foods, which could lead to value creation, even at a higher deal price, for Post via multiple expansion" – After claims this week there has been talks to merge Post Holdings and ConAgra Foods' Lamb Weston unit, Barclays Capital analyst Andrew Lazar reflects on the benefits a merger could bring to Post.
"Jeff has a wide range of experience in both the US and internationally. The timing is right to bring together overall operations under one leader" – General Mills chairman and CEO Ken Powell on the appointment of 20-year company veteran Jeff Harmening to the newly-created position of COO.
"Finding lower saturated fats that perform equally has been a more difficult effort and, although we're making progress, we still have work to do confirming the consumer experience" – a spokesperson for Mondelez International on the US-based snacks group's work to lower the amount of saturated fat in its products.
"Action on Sugar has learned from sources close to the government that during the year that Cameron's obesity plan has been delayed, it has been severely eroded by strong lobbying from certain members of the food industry and in particular, food industry representative bodies such as the Food and Drink Federation and the British Soft Drinks Association" – the UK campaign group claims the country's upcoming plans to tackle child obesity are being watered down by industry.
"This is a ridiculous suggestion" – a spokesperson for the UK's Department of Health pours scorn on the claim.