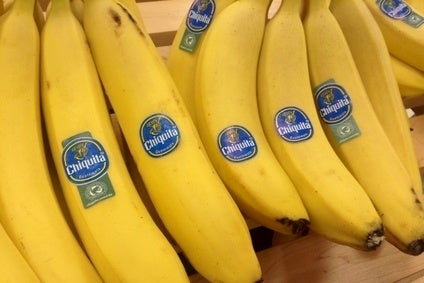 A busy week for third quarter results, with several packaged food giants reporting profit pressure. Danone extended its tie-up with Mengniu in China and Premier Foods discussed international growth. Here is just-food's week in words.
"This transaction demonstrates our board's commitment to maximising shareholder value and underscores the significant progress Chiquita has achieved over the past couple of years in our financial and operational performance. We are pleased with the substantial value and significant all-cash premium we have delivered through this exciting agreement with the Cutrale Group and the Safra Group." Chiquita CEO Ed Lonergan accepts Cutrale-Safra takeover offer.
"Building on our successful cooperation in fresh dairy products, we are today strengthening the winning team formed by Danone and Mengniu by acquiring an equity stake in Yashili-combining Mengniu's wide-reaching network in China with Danone's international expertise in infant milk products. I am delighted with this transaction and am confident in our ability to grow all of our brands in the Chinese market." Emmanuel Faber, Danone CEO, hails the extension of the group's tie-up with China's Mengniu.
"We are pleased to have announced results for quarterly operating profit and earnings per share that were ahead of our expectations. Our international business did well in the quarter, although we continued to face the challenges in developed regions and categories that we've seen all year." Kellogg chairman and CEO John Bryant admits developed market woes.
"Some of the bigger players in the market are so far behind in what they are promoting to people as health. They're still talking about calorie pledges and fat content. We need to cut sugar as much possible and increase people's protein" – Damien Kennedy, co-founder of fledging high-protein ice cream brand Wheyhey, says some in the industry are sending the wrong messages to consumers on health.
"Our largest [markets for organic meat are] first of all our home market – in Denmark – then in France, where we are seeing very large sales growth, Germany and Holland, where we are seeing not so much on pork but more in beef. It is basically across our main markets. And then we have smaller markets. Sweden could be a bigger market for us than it is today. We do see good potential there and high interest in organic and free range. It is Europe – tending to be northern Europe – where we see the most growth." Henrik Biilmann, MD of Danish Crown's organic arm Friland, on the growth prospects for organic in Europe.
"What I would say is that international is a big opportunity. Today, we're very small, it's less than 5% of our sales. If you look at most big FMCG businesses, between 15% and 20% is more typical. We've got so much white space to go at. We're focusing on those three markets but there's loads of others. We're going to look at South America, broader Asia, South Africa, the Middle East. There are more places we can go than the research we've got." Peter Ellis, Premier Foods international chief, discusses the UK group's international expansion.
"Retail store traffic and consumer trips continue to be irregular within the food channel. This has adversely impacted purchases of non-seasonal everyday candy products. Over the remainder of the year and into 2015 we are focused on driving non-seasonal and seasonal net sales growth, across all channels, with the optimal mix of innovation, advertising, merchandising and programming that we believe positions us to win across the confectionery and broader snacks categories." Hershey president and CEO John Bilbrey outlines the chocolate maker's 2015 plans after its lowers its 2014 financial forecasts.
"On the one hand, we plan yearly actions to reduce salt, fat, saturated fats and adding wholegrain and fibres to existing products; on the other, we launch new products taking into account a set of nutritional guidelines derived from international standards. Secondly, the Double Pyramid is also a lifestyle model, highlighting combinations of a very broad variety of food products, suggesting quantity and frequency for a balanced diet." Roberto Ciati, sustainability director at Italian pasta, sauces and baked goods group Barilla, describes the group's 'Double Pyramid' concept to just-food in our latest Sustainability Watch.
"Once we deliver to Poles we don't need to advertise because the brand is known, if we want to distribute our products to non-ethnic markets on the national level we need to make all these steps: adjust the base, adjust the packaging. It is hard work." E. Wedel, the Polish unit of confectionery giant Lotte Group, is eyeing global growth export director Rafat Perkowski says.