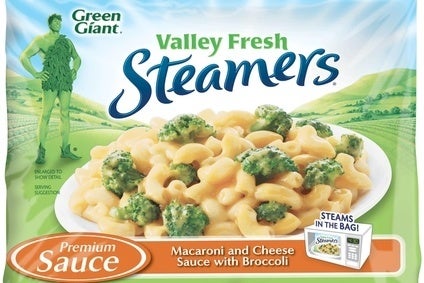 This week, B&G Foods announced it had acquired General Mills' struggling Green Giant business in a US$765m deal. Elsewhere, Arla Foods struck two joint ventures in Senegal and Nigeria as the dairy group looks to further expand its presence in Africa. Meanwhile, Campbell Soup Co. reported its full year results and issued a 2015/16 forecast above Wall Street estimates. Here is the week in quotes.
"Though Green Giant has struggled recently, we have demonstrated for almost two decades that integrating and repositioning acquired brands, halting sales declines and innovating for growth is a core competency for B&G Foods" – Robert Cantwell, B&G's president and CEO, believes the US group can reinvigorate Green Giant acquisition.
"With the improved living standards, families are increasingly demanding safe and affordable nutrition. West Africa faces a milk deficit, which gives Arla an opportunity to provide milk powder and other dairy products that meet the consumers' needs. We are here to build a long-term business, and that requires strong local partners" – Steen Hadsjberg, head of Arla's business in sub-Saharan Africa, on the dairy group's ambitions in the region as it announced two new local ventures.
"Although there has been no formal withdrawal of the expression of interest, the board continues to consider that no takeover offer is imminent" – A2 Milk Co. responds after Freedom Foods Group said it and Dean Foods had ended "detailed discussions" over a possible move for the New Zealand milk business.
"These facts have been completely ignored in the context of a campaign that aims as usual to cause a scandal in the food industry, headlines and high-profile publicity for Foodwatch" – Unilever defends its Becel Pro Activ product after a German court dismissed a suit against consumer watchdog Foodwatch.
"Access to the group's main export market of Russia remained limited, since restrictions against Ukrainian dairy export, as well as food export from the EU, were not lifted by Russian authorities due to continuing tensions between Russia, Ukraine and the EU" – Milkiland posts a loss for the first half of the year on the back of continued pressure in its key markets: Russia and Ukraine.
"Fiscal 2015 was eventful for Campbell. We took important steps to lay the foundation for the future… Looking ahead to fiscal 2016, we believe that our focus on driving growth, aggressively reducing costs and reinvesting a portion of the savings in the areas of our business with the greatest growth potential is the best way to create shareholder value" – Campbell Soup Co. president and CEO Denise Morrison looks to the US group's new financial year after announcing its annual results.
"We strongly believe in the growth opportunities in Europe's snacking market. As Poland's market leader in biscuits and chocolate, we know that maintaining our competitive advantage requires best-in-class manufacturing technology" – Jürgen Leiße, the president of Mondelez International's operations in central Europe, reaffirms the company's commitment to the continent, as it announces a US$30m investment at its Skarbimierz site in south-west Poland.
"Especially on the heels of our recent acquisition of Mediterranean Snacks, Haroon's leadership is very timely and will be instrumental in our integration of this bolt on acquisition. Haroon represents a huge uptick for our management team as we enter this next phase of success as a leading national platform brand in the high growth natural and organic food sector" – American Halal Co. CEO Adnan Durrani comments on the firm's appointment of ex-Sabra Dipping Co. finance executive, Haroon Jafree, to COO and senior VP of corporate development.
"Our financial performance tends to be skewed towards the second half of our fiscal year when Del Monte is the brand of choice for festive occasions. As we continue to unlock the growth potential of our products, accelerate our penetration of the food service sector and ethnic Asian market as well as enter new vegetable segments, our results will improve further" – Del Monte Pacific CEO Nils Lommerin says he expects the group's performance to accelerate in the back half of the year after it reports lower first quarter losses, with an improved operating performance propelled by sales growth in the US and Philippines.
"With the introduction of Breakfast Bakes, we want to redefine the typically dry eating experience of breakfast bars with a product that has the unique Soreen texture that our customers enjoy" – Paul Tripp, UK managing director for Soreen, on the brand's launch of breakfast bars.