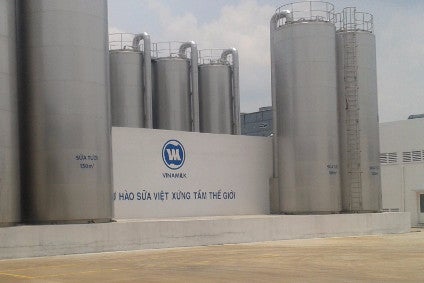 This week's top stores included Hormel Foods' deal to buy US nut-butter business Justin's, Premier Foods' plans to make its products healthier and Vinamilk's decision to remove the cap on the shares foreign investors could own in Vietnam's largest dairy company.
"A lot of the research that we have done around the [Skippy] brand tells us that it's not extendable into the space where Justin's plays today. And so Justin's affords us that opportunity to really be more complementary to the Skippy brand in a category that's a rapidly growing category. We know that it attracts a younger, more health conscious on-the-go millennial consumer" – Hormel Foods president and chief operating officer Jim Snee outlines why the Skippy owner has moved for US nut-butter brand Justin's.
"We need to improve the performance of our European business by developing more efficient production units and improving market share of our products. We must respond to ongoing external challenges such as difficult trading conditions, squeeze on margins, food deflation, aggressive promotional activity and overall category decline reflecting change in consumer tastes" – Audrey Baxter, executive chairman and CEO of Baxters Food Group,on the why the UK-based group looking at ways to shake up its manufacturing network.
"We are leaning very much into this issue and – I would say – opportunity. There are two reasons. One, there is no social alternative, whether it be salt, sugar or calories. It is what great companies should do. It is a big issue – particularly obesity – of our time. Secondly, there are business opportunities. Candidly, if you look through the other end of the telescope, you can always find opportunities. We will find cake, dessert opportunities, which we can serve even better, which are more healthful and which meet the targets" – Premier Foods plc chief executive Gavin Darby on the UK group's announcement of a series of measures to make its products healthier.
"This is the first significant state-owned enterprise to completely remove foreign ownership limits, and we believe this could be the start of significant momentum in foreign ownership expansion and privatisation generally" – Vietnam-based investment firm VinaCapital's chief investment officer Andy Ho comments on news Vinamilk is to remove a limit on the shares foreign investors can own in the dairy group.
"Tomales Bay Foods and Cowgirl Creamery are an excellent addition to our portfolio of sustainably produced premium speciality cheeses in the US. Together with Cypress Grove Chevre and Redwood Hill, the two companies will form a powerful network for extraordinary dairy products in California" – Urs Riedener, Emmi's CEO, on the Swiss group's expansion of its presence in the organic dairy sector in the US through the acquisition of California-based organic dairy Cowgirl Creamery Corp. and the associated Tomales Bay Foods.
"Customers are sceptical of whose side we [the food industry] are on. If they see us as people who want to sell more stuff that doesn't help them. If they see us as people who want to help them be healthy… that helps them and we will sell more stuff" – Dr Martha Rogers, founder emerita of US consultants Peppers & Rogers Group, says there is a clear business case for building consumer trust in natural claims.
"We applaud management for being willing to alter its focus after many years of successful growth. The competitive market has indeed changed, alongside changing consumer desires. As such, we believe that a focus on specialty bread growth coupled with a profit maximisation strategy in conventional bread is the right course of action" – BB&T Capital Markets analyst Brett Hundley, comments on Flowers Foods strategy of focusing on organic bread market growth and internal cost improvement after the firm announces a drop in first quarter operating earnings.