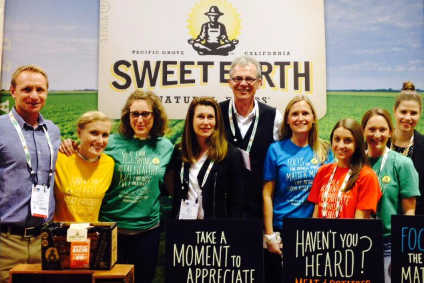 McCormick & Co. took the market by surprise this week with its decision to end its pursuit of UK company Premier Foods plc. Mars Inc, meanwhile, said it would put labels on some of its non-confectionery food lines to suggest consumers only eat them occasionally. Elsewhere, Unilever reported its first-quarter sales and once again highlighted the challenges it is facing in the spreads category. We ran two more interviews from our recent visit to the Expo West trade show in the US, with Campbell Soup Co.'s baby food unit Plum Organics discussing its move into infant formula and local veggie firm Sweet Earth Natural Foods outlining how it aims to take its business mainstream. Here is the week in quotes.
"McCormick has, after careful consideration, concluded that it would not be able to propose a price that would be recommended by the board of Premier Foods while also delivering appropriate returns for McCormick shareholders" – the US herbs and spices group ends its interest in its UK target, shares in which promptly sank.
"We want to help our consumers understand the difference between 'everyday' and 'occasional' products within a balanced diet" – Fiona Dawson, global head of Mars' food unit, announces a series of health-focused initiatives at the Uncle Ben's and Dolmio maker.
"We believe our food should be accessible. We seek out and are selling our foods to places like Target. We even have some distribution in Wal-Mart, where we are able to get really good pricing and open up this healthier, flavour-forward food to a broader audience. We are grateful for all the distribution. We do particularly well in co-ops [and] we have a lot of natural distribution" – Kelly Swette, founder of Sweet Earth Natural Foods, says the US compamny has benefited from conventional retailers reacting to changes in consumer demand.
"We're continuing to execute our strategy, that's the phase we're at at the moment. As you know the business has a very strong margin contribution to Unilever and generates a lot of cash. Most fundamentally what we are focused on doing is executing the plans and preserving the cash the business generates in the interests of shareholders" – Unilever CFO Graham Pitkethly declines to elaborate on the drag from its spreads business in the first quarter but suggests the Flora maker is still committed to returning the unit to growth.
"When we approached the idea of making an infant formula, we thought of this as food. But when we interviewed parents, they didn't see formula as food. Really it's an infant's first food… Thinking of it as food lead us to really dig into what is in it and start to educate ourselves and consumers" – Larissa Friesen brand manager for Plum Organics, says one of the US firm's challenges in moving into the infant formula market has been convincing parents to think of formula as "food".
"Nestle gave a more optimistic view than in the past quarters. We believe that the red flags are gradually fading as organic growth gains momentum due to US frozen doing better, Maggi India has recuperated gain and will show stronger growth in H2 and strong growth in powder beverages with all brands, Nespresso, Dolce Gusto, Nescafé and VertueLine" – Alain Oberhuber, consumer goods analyst, MainFirst, shares his thoughts on Nestle's first quarter results after the KitKat owner reports underlying first-quarter sales that beat analyst expectations.
"Honey Monster Puffs and Good Grain are great brands with fantastic potential for further growth in the UK, and we look forward to applying our experience to take these brands on to their next level of development" – Brecks founder and managing director James Hirst comments after the UK cereals and meat-free product supplier secured a licence for the Honey Monster and Good Grain brands from Raisio.
"This initiative is in alignment with our company's continuous improvement process and better positions our products with current consumer preferences. Now consumers can feel even better about the products they know and love" – Kevin Myers, senior vice president of R&D at Hormel Foods, as the US company announces plans to simplify the ingredient statements on "many" of its retail products.
"I believe that Evans' preferred products, advantaged manufacturing footprint, solid portfolio of national and regional brands, great team and partnership with Wind Point will enable us to pursue a wide array of domestic and international opportunities" – Former PepsiCo executive Jose Luis Prado says he aims to take Evans Foods to the "next level" following his joint acquisition of it with private equity firm Wind Point Partners.