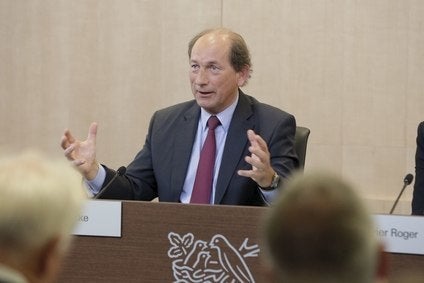 Nestle CEO Paul Bulcke faced questions over the food group's performance after it missed analyst expectations and lowered its forecast for underlying annual sales. Mondelez International explained why it was confident Belvita breakfast biscuits could succeed in China, while Kantar Worldpanel outlined how local products had gained an edge over international brands.
"You have to have a sense of reality, but our prime objective is to outperform the market" – Nestle CEO Paul Bulcke sets out the company's underlying aim, despite being set to miss its so-called "Nestle Model" target for annual organic sales growth.
"Local players are currently winning the game" – Marcy Kou, the CEO of Kantar Worldpanel's business in Asia, argues local products have the edge on global brands in the region.
"Advanced planning, risk measurement, transparency and overall better water management can help investors and companies alike to avoid extreme costs associated with water scarcity, pollution, or variable precipitation due to climate change" – Carly Greenberg, environmental, social and governance research analyst at US-based Walden Asset Management outlines the kind of action companies can take to tacke the issue of water.
"New Zealand is a very interesting country, a market in strong growth with consumers who have high purchasing power and preference for products with Made in Italy quality" – Granarolo chairman Gianpiero Calzolari explains why the Italian dairy company has acquired 25% of European Foods, a distributor of Italian products in New Zealand.
"As more Chinese are shifting to modern breakfast options, we believe Belvita breakfast biscuits offer a compelling benefit, nutrition, taste and convenience" – Stephen Maher, president of Mondelez International's operations in China, on why the snacks giant has launched the brand into the country.
"On the flip side, large global consumer goods brands that ignore sustainability increase reputational and business risk. This may give competitors of all sizes, the opportunity to build trust with the predominantly young, socially-conscious consumer looking for products that align with their values" – Carol Gstalder, senior vice president, reputation and public relations solutions at Nielsen after the research group said sustainability is becoming a key factor among shoppers when deciding which consumer brand to buy.
"The dynamics that household sizes are changing and consumers are little and often are happening in many markets. That gives us confidence that the proposition has the potential in many markets" – Cathy Kidd, global marketing director for Kerry Group's children's dairy unit, says the company will continue to look for new markets for Cheestrings after a possible push into southern Europe in 2016.
"Our objective to build our factory in Indonesia is to produce quality Munchy's products at a lower cost in order to supply to the Indonesian market" – Maggie Lim, regional export manager at Munchy Food Industries explains why the Malaysia-based snacks group, is set to start production in Indonesia.
"Consumer preferences are reshaping the snacking industry in many ways, one of which is a profound shift towards healthier products. BFY is well-positioned to capitalise on that trend" – Dan Morgan, BFY Holdings' new president and chief sales officer, believes the US snacks group can benefit from changes in demand.
"We are optimistic that the EU will act as there's clear cut scientific evidence" – Nestle's head of relations with European institutions, Bart Vandewaetere, says the food giant is confident Brussels will regulate on trans fats in food.