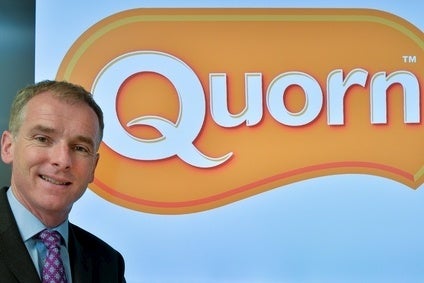 Philippines group Monde Nissin was this week named as the buyer of Quorn Foods, agreeing a deal that valued the UK meat-free business at GBP550m. ConAgra Foods, under-pressure from changing consumer trends in the US, outlined its plan to revitalise the group, with 1,500 jobs to go as part of the process. And just-food interviewed seafood giant Thai Union Group about its sustainability programmes.
"Monde Nissin have been investing in on-trend, better-for-you products internationally in line with our strategy to become a global diversified food company. Quorn represents an important new leg in our offering" – Henry Soesanto, the CEO of Philippines group Monde Nissin, explains why the company moved for the UK-based meat-free business.
"We have an ambition to be the world leader in meat alternatives, ultimately creating a US$1bn business. Monde Nissin Corporation's purchase represents a great step forwards in this ambition; they share our belief in the potential of Quorn, and provide capability to expand the brand into Asia" – Quorn CEO Kevin Brennan outlines the benefits he sees from Monde Nissin's takeover.
"Today's announcements are important milestones as we continue to execute against our strategic plan to build a focused, higher-margin, more contemporary and higher-performing company" – ConAgra Foods president and CEO Sean Connolly speaks after the company outlines plans for higher productivity and profits – and for cuts to 1,500 jobs.
"The agreement has been breached by the KSF by sourcing supplies from an alternate supplier" – Indian food group Kohinoor Foods Limited claims its venture with McCormick & Co. – Kohinoor Speciality Foods – has broken their contract over rice supplies.
"We think that our portfolio range needs to be expanded. We don't think we have the kind of range that's ideal for where we want to take the company over time" – Diamond Foods CEO Brian Driscoll indicates the US snacks group is ready for M&A – but could the Kettle Chips owner itself be a target?
"Our vision at SCI-MX is to become a household name for healthy, high protein, convenient snacking" – Trayl Wallace, the managing director at SCI-MX, explains why the UK sports nutrition has sold itself to Samworth Brothers, the local private-label supplier and owner of Ginsters pasties and Soreen malt loaves.
"The NGOs and the media have played a very valuable role in exposing practices that the industry needs to take more attention of but I suspect now that we are aware of the issues, the industry is starting to change it would also be nice to work with some of the more solutions-focused NGOs, those who can see that there is room to change and we can work together to have more positive outcomes than if we're constantly at odds" – Dr Darian McBain, group director of sustainable development at seafood giant Thai Union Group, asserts companies and campaign groups must work together to achieve progress.
"The combination of Mass Food Group's manufacturing capabilities, established local brands, and sales and distribution infrastructure, coupled with Kellogg's product innovation, international sales knowledge, iconic brands and marketing expertise, will help unlock the growth potential of the cereal category in the key markets of Egypt and north Africa" – Chris Hood, president of Kellogg's European operations, on the US group's acquisition of Egyptian cereal firm Mass Food Group.
"There is an opportunity [in the UK] for a differentiated and premium infant formula brand for children that have issues with digestion" – Scott Wotherspoon, the CEO of A2 Milk Co.'s UK arm, explains why the New Zealand firm is preparing a push into UK infant formula.