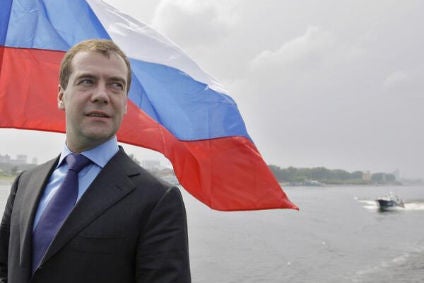 Why Russia is mulling an extension to its restrictions on food imports, the context for US plans to cut the country's salt intake, what Fonterra thought of speculation over the future of its CEO and the reason for Unilever's sale of its soy drinks business in Latin America are among this week's must-read soundbites. Click on the links to read the stories in-depth.
Russia's plans to extend its restrictions on food imports until at least the end of 2017 would give the country's own producers a "longer planning horizon for investments", insists Prime Minister Dmitry Medvedev.
"Today's announcement is about putting power back in the hands of consumers, so that they can better control how much salt is in the food they eat and improve their health" – Sylvia Burwell, the US Secretary for Health and Human Services, explains why the Food and Drug Administration is looking to reduce the country's sodium intake.
"Any speculation about Theo's position is completely untrue. End of story" – Fonterra reacts to a report in Australia claiming CEO Theo Spierings could be stepping down from the helm of the world's largest dairy exporter.
"This sale is a step in reshaping our portfolio in Latin America to deliver sustainable growth for Unilever and enables us to sharpen our focus" – Miguel Kozuszok, executive vice president for Unilever's business in Latin America, outlines why the company has sold its soy drinks business Ades.
"Peyman is a rapidly growing market leader capable of transforming into a larger and broader snack brand" – Martin Dunn, Bridgepoint's partner responsible for investment activities in Turkey, explains why the private-equity firm has swooped to buy Turkish dried fruit, nuts and seeds producer Peyman.
"Whilst the board remains confident in management's plans for growth and innovation in the core brands and the business is experiencing strong momentum, the scheme represents an attractive value for shareholders" – Patties Foods chairman Mark Smith on why the Australian bakery group's board is supporting a takeover offer from private-equity firm Pacific Equity Partners.
"A historic moment, signalling change also providing increased transparency for consumers" – how Roberto Moncalvo, the president of Italian producer association Coldiretti described the country's passing of legislation mandating origin labelling.
"We want to be in premium and we want to be in better-for-you – and organic is a great better-for-you stroke premium category" – in an interview with just-food, Tyrrells CEO David Milner explains why the UK crisp maker has acquired German organic peer Aroma Snacks.
"This acquisition represents a unique opportunity to enter high growth dairy categories in a key market in the Americas. Through this transaction we are obtaining modern production facilities, growing businesses in value added categories, and a local platform for future growth in the world's largest dairy market" – Scot Rank, Grupo Lala's CEO, on why the Mexican dairy group has snapped up Laguna Dairy's US assets.
"We were told quite clearly by local management that the decision was made to close the site between January and February… yet Unite wasn't notified until March, so any consultation then became a fait accompli" – Unite regional officer Mark Barter claims Arla Foods had already decided to close a site in the UK before embarking on talks with staff and union officials.