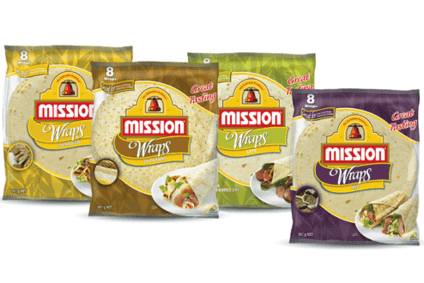 Mission Foods owner Gruma, fellow Mexican group Industrias Bachoco and US infant formula business Abbott were among the companies reporting second-quarter numbers this week. Elsewhere, US egg supplier Cal-Maine Foods and kiwifruit supplier Zespri provided figures for their full financial years.
Gruma sales helped by forex, profits mixed
Mexican food group Gruma saw net sales rise 16% to MXN14.28bn (US$877.8m) in the second quarter, benefiting from sales made in the US being translated back into pesos.
The company posted a 22% jump in operating income to MXN1.84bn thanks to its Gruma Corporation arm, which sells corn flour and tortillas in the US, Europe, and China.
Majority net income slid 5% to MXN1.08bn. Gruma pointed to higher taxes and to the contribution last year of wheat flour operations it sold in December.
Cal-Maine Foods hails "record year"
Cal-Maine Foods chairman, president and CEO Dolph Baker hailed "another record year" for the US egg supplier, as sales and earnings rose.
For the year to the end of May, net sales hit US$1.58bn, compared to $1.44bn a year earlier.
Operating income reached $235.3m, sharply higher than the $146.1m a year earlier. Net income was $161.3m, versus $109.2m the previous year.
Fourth-quarter sales and earnings also rose, though Cal-Maine's shares initially dipped on Tuesday (21 July), with the company's quarterly profits missing expectations.
BB&T Capital Markets analyst Brett Hundley said some investors were "mistakenly" looking for more of a positive impact on the business from the recent bird flu outbreak in the US. "This will largely not materialise until FQ1," Hundley said.
Zespri books higher FY revenue
The New Zealand-based group said this week its sales grew 16% during the 2014/15 season, reaching NZ$1.57bn (US$1.03bn).
Net profit after tax doubled from N$17.2m to NZ$34.6m in 2014/15. The result was boosted by NZ$19.6m of unpaid revenue from new cultivar licences from previous years.
Excluding the payments, Zespri's normalised profit would have been NZ$21.5m – a figure the company said "more accurately reflects current volumes and the strong investment being made in the growth to come".
Abbott sees forex weigh on formula sales
Abbott's nutrition division grew sales infant formula sales during the second quarter but saw the impact of currency fluctuation trim the numbers.
The Similac owner said its paediatric nutrition sales increased 3.9% on an operational basis in the second quarter – but inched up 0.1% thanks to a 3.8 percentage point effect of foreign exchange.
However, Abbott said growth in the quarter was "driven by double-digit operational growth in China and several countries in Latin America, partially offset by market dynamics in certain Asian countries".
Industrias Bachoco rides strong demand, stable commodity costs
The Mexican poultry processor enjoyed higher sales and earnings in the first half of 2015.
Bachoco booked a 14.8% rise in net sales to MXN23.24bn, with its operations in Mexico and the US seeing growth. The US represented 23.6% of Bachoco's sales, compared with 19.9% in the first half of 2014.
The company's operating income reached MXN3.55bn, compared to MXN2.41bn a year earlier. Net income stood at MXN2.66bn, against MXN1.75bn in the first half of 2014.
Seafood firm Aquatic Foods sees sales rise
The Chinese group, listed in London, this week reported unaudited revenues of around CNY369m (US$59.4m) for the five months to the end of May, up 26% year-on-year.
The company, which gave the trading update ahead of its AGM, said the growth was "principally" driven by sales of fish including mackerel and saury.
Aquatic Foods sells products under the Zhenhaitang in China. Other brands include Kanwa Foods in Japan.