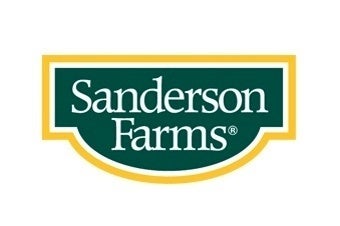 US poultry group Sanderson Farms posted higher half-year sales and profits, although there was some concern on Wall Street about the near-term outlook for the business. Barilla announced its results for 2014, which included an increase in revenue and earnings.
Sanderson Farms sales, earnings rise
US poultry group Sanderson Farms booked higher sales and earnings for the first six months of its financial year.
The company said net earnings increased to US$137.7m, versus $79.9m, while operating profit rose to $212.5m from $123.6m in the comparable period of last year. Sales grew to $1.38bn from $1.24bn.
Sanderson said profits were boosted by lower feed and grain costs as well as "favourable demand" for poultry products.
BB&T Capital Markets analyst Brett Hundley warned that Sanderson could face some challenges in the remainder of the year, with over-supply in the market. "We think the US chicken industry is at a definitive cycle top. Private contacts tell us that the market feels over-supplied currently, which has been reflected in a mid-season B/S price reversal. They also note that pork is starting to compete better at retail. SAFM says this is temporary."
Barilla earning rise on volume growth, margins
Italian pasta maker Barilla Group booked higher earnings in 2014, driven by increased sales volumes and higher margins.
In its annual report, the group said EBITDA for the 12 months rose to EUR427m (US$486.6m) versus EUR409m. EBITDA margin stood at 13.1% compared to 12.7% in 2013. During the year, the company increased its investment in capacity and reduced debt levels.
Revenue excluding currency exchange rose 2% to EUR3.25bn. Volume in Italy rose 1%. International volumes increased 5% in Europe (excluding Italy), 4% in the Americas and 6% in Asia, Africa and Australia.
Click here for the full release.
Tingyi profit falls as sales drop
Chinese noodle-to-beverages group Tingyi booked lower first-quarter profits after a drop in noodle and instant food sales.
The company said EBITDA in the three months to end-March fell 13% to US$734.9m. Net profit was down 16.6% to $107m.
The decrease in profits reflected lower sales at the Master Kong manufacturer. Noodle sales fell 13% year-on-year but increased sequentially from the fourth quarter, rising 2.9% as the group retained its leading market position in China. Sales of instant foods fell almost 30%, Tyngyi added. Total sales, including the contribution from its beverage arm, declined 16.6% to $2.3bn.
Vilkyskiu Pienine sees mixed Q1
Lithuanian dairy Vilkyskiu Pienine has booked a mixed first quarter as lower taxes lifted the bottom line despite a drop in operating profit.
In the three months to end of March, Vilkyskiu Pienine said net earnings rose to EUR108,000 (US$118,690) versus EUR70,000 last year. The net result was boosted by lower taxes and a drop in financial expenses.
Operating profit, however, fell to EUR42,000 from EUR142,000. Sales decreased to EUR19.6m from EUR28.3m.
Candyking sees lower losses in Q1
Swedish confectioner Candyking has reported lower losses for the first quarter of 2015.
Candyking posted a net loss of SEK3.6m (US$420,396) compared with SEK31m for the same period a year earlier. Operating profit was up to SEK13.8m compared with SEK3.7m year-on-year.
Underlying EBIT increased to SEK13.9m compared with SEK9.9m a year ago. The increase came from "continued positive development in Denmark and the UK" as well as a positive impact from cost savings.
Sales fell 3.7% to SEK428.1m as a result of the timing of Easter which last year fell in the second quarter but this year was in the first quarter.
Strauss Group sees lower operating profit on increased competition
Israeli food firm Strauss said first quarter operating profit was hit by "fierce competition between market players". Operating profit fell 3.1% to NIS197m (US$50.8m).
Net profit increased 2.4% to NIS102m.
Sales fell 2.1% to NIS1.93bn however organic sales, which strips out the effect of negative foreign exchange, increased 1.8%.
G.Willi-Food sees Q1 sales, profits fall
Israel-based food company G.Willi-Food International has reported a 63.1% drop in net profits to NIS2.6m (US$0.7m) in the first quarter of the year on the back of lower sales and higher expenses.
Operating profits fell 67.8% to NIS2.1m.
Sales fell 9.3% to NIS86.2m "primarily due to overall market decline in food product consumption by the Israeli consumer."
Profits up, sales down at Quantum Foods
The South African poultry producer, spun out of Pioneer Foods Group last year, booked higher half-year profits this week but lower sales.
Lower raw material costs and Quantum's "clear strategic plan" – which involved a "derisking and repositioning" of the business – helped profits in the six months to the end of March. Headline earnings were up from ZAR22m (US$1.8m) to ZAR61m. Quantum posted an operating profit of ZAR82m, versus an operating loss of ZAR24m a year earlier.
Revenue dropped 3.7% to ZAR1.68bn amid lower sales from Quantum's broiler operations.
Regional growth buoys Rhodes Food Group
The South African business posted an increase in half-year sales and earnings this week.
Turnover for the six months ended 29 March increased by 12.4% to ZAR1.3bn (US$107m) on the back of an 18.4% rise in sales in its "regional" business, which comprises South Africa and sub-Saharan Africa.
Sales from Rhodes' international arm dipped 1.4% due to a shift in the timing of orders and more canned fruit being sold to markets closer to home.
Profit after tax was up 58.1% at ZAR58.1m.
Q1 growth for Russia's Rusagro
Ros Agro, the UK-listed holding company behind Russian sugar-to-mayonnaise maker Rusagro Group, saw sales jump 28% in the first three months of 2015, contributing to higher profits.
Sales hit RUB14.12bn (US$268.6m). Rusagro said sales from its sugar arm – its largest business – were up 7% amid higher prices. Its meat arm saw sales jump by almost two-thirds.
Rusagro's sugar division enjoyed an 81% increase in gross profit. Net profit for the company grew 90% to RUB4.25bn.
Organic growth and Polish boost at Danish Crown
The Denmark-based meat co-op posted a jump in half-year profits as sales were helped by organic growth and the consolidation of Polish business Sokolów into its results.
Revenue hit DKK29.29bn, up from DKK28.21bn a year earlier. Danish Crown said sales were up 4% on an organic basis. It also pointed to the impact of taking 100% control of Sokolów from former partner HKScan.
Operating profit is up 28% at DKK1.11bn in part due to the full ownership of Sokolów and because one-offs affected last year's result.
Net profit stood at DKK852m, against DKK813m a year earlier.