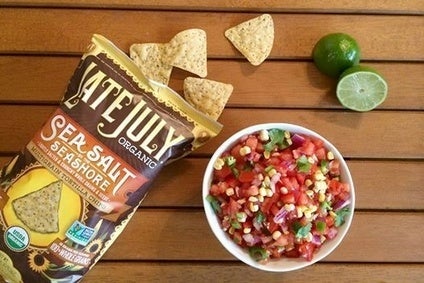 This week's results included an upbeat US snack group Snyder's-Lance reporting higher second-quarter sales and profits, improved half-year revenue and earnings at seafood giant Thai Union and declines at an acquisitive SunOpta.
Snyder's-Lance hails "solid" Q2
Snyder's-Lance booked higher second-quarter sales and earnings driven by growth in the US snack group's better-for-you and premium branded portfolio.
Net revenue for the second quarter of 2015 was US$431.4m, an increase of 8%. Net income excluding special items for the second quarter was $19.1m compared to $15.8n. Including one-offs net earnings totalled $17.3m.
"Our team delivered solid results for the second quarter, continuing our positive momentum for 2015. Our balanced portfolio of 'better for you' and premium products are winning with consumers looking for snacks that taste great and provide fuel for their busy day," said Carl Lee, Jr., the company's president and CEO. "During the second quarter, core brand sales were led by Cape Cod Kettle Chips which grew at double digits."
TUF posts rise in H1 profit, sales
Thai Union Frozen has reported a rise in first-half profits and sales.
Net profit for the six-month period ended 30 June increased to THB3.15bn (US$89.3m) from THB2.81bn. Profit before income tax was up to THB3.82bn from THB3.27bn.
Revenues grew to THB59.24bn from THB58.20bn
For the second quarter, however, profit fell to THB1.57bn from THB1.71bn on the back of higher income tax expenses.
SunOpta revenues, earnings fall
Canada's SunOpta booked lower first-half sales and earnings but revealed it is investing in expanding its fruit snack capabilities.
Revenue fell 6% to US$610.7m. EBITDA dropped to $30.1m from $39.6m in the year-ago period. Net earnings dropped to $7.3m compared to $15.3m last year.
Alongside the results, SunOpta said it expanded its presence in the fruit snack sector in the period via the acquisition of Niagara Natural.
"The last couple of weeks have been a very exciting period of growth for SunOpta with the announcement of our agreement to acquire Sunrise Growers and the strategic addition of Niagara Natural," said CEO Steve Bromley. "We expect that both of these additions will leverage our vertically integrated platform, deepen our customer relationships with new products and capabilities, and in turn accelerate our top- and bottom-line growth."
Bakkavor sees sales slow in Q2
Bakkavor has reported higher half-year sales and profits but the UK own-label supplier did see revenue growth slow in the second quarter.
The company's like-for-like revenue was GBP441.5 (US$691.1m) in the quarter, up from GBP439.5m a year earlier.
However, that represented a slowdown from the first quarter. First-half like-for-like revenue increased 2% to GBP867.4m.
Adjusted EBITDA grew 14% in both the quarter and the half year. First-half adjusted EBITDA hit GBP65.4m.
First-half net profit reached GBP3.7m, against GBP3.1m in the first six months of 2014.
CEO Agust Gudmundsson said: "It has been another quarter of good progress but we expect the trading environment to continue to be challenging due to a combination of price deflation and a highly competitive grocery market."
CP Foods H1 profits get disposals boost
Thailand-based meat giant Charoen Pokphand Foods saw its net profit rise 6% in the first half of the year but the result was helped by the proceeds by the sale of assets.
First-half net profit was up 6% at THB5.94bn (US$167.1m). However, EBITDA fell 26% to THB10.57bn amid "sluggish" domestic demand and lower prices of farm products.
Revenue was down 2% at THB199.9bn. Domestic sales dropped 6%. Sales to China were down 3% but to Vietnam increased 4%.
Clover Industries ups earnings forecast on price hikes
The South African dairy processor lifted its forecast for annual earnings per share on the back of higher selling prices.
In a trading update, the company said it expects headline earnings per share for the year ended 30 June to be between 64.2% and 74.2% higher than the earnings of 102.7 cents reported for the previous 12 months. Clover forecast earnings per share would be between 81.3% and 91.3% above the 102.3 cents booked a year earlier.
The group said it had seen selling price increases across most categories, which boosted gross margins, although there had been "some loss" of sales volumes and market share. The gross and operating margins accordingly improved considerably. Volumes were down 1.7% as Clover's new yoghurt and custard products, as well as the recently-acquired Nkunzi MilkyWay business helped shore up sales.
Clover is set to report its full annual results on 16 September.
Edita Food Industries Q2 profits flat on investment
Egypt-based snacks group Edita Food Industries booked flat profits in the second quarter of the year amid investment in production and marketing, as well as costs from its IPO earlier this year.
Net profit after tax was flat year-on-year at EGP67m (US$8.6m). Revenues in the second quarter did rise, increasing 13.1% to EGP514.8m, although growth was slower than the 17% Edita saw in the first quarter.
Edita said the second quarter included overlapped annual school exams and the month of Ramadan, which it described as "slow seasons" for FMCG companies in general and for snack-food producers in particular. It also pointed to wholesalers directed expenditures in the latter weeks of the quarter to cigarette and cooking oil SKUs in anticipation of price rises at the start of the third quarter, "leaving comparatively less liquidity for snack foods".
The company, meanwhile, said it had acquired land for a new manufacturing facility as it prepares to produce Hostess Brands LLC lines for more markets in the Middle East.
Infant formula pricing pressure hits Synutra Q1 sales, profit
Pricing pressure has hit first-quarter sales and profits at Chinese infant formula business Synutra International.
Net income fell 22% to US$82.3m in the period to 30 June. Operating income dropped 34% to $12.5m.
Sales fell 4% to $7.9m.
Chairman and CEO Liang Zhang said Synutra's French facility is progressing to schedule with the drying towers expected to be ready for commercial production of whole milk powder and oil-wrapped whey protein powder in the first quarter of 2016.
"Once we begin commercial production, we will be able to eliminate the oil-wrapping process in our current production operations, which will allow us to streamline our processes and reduce costs."
Tofutti posts higher H1 losses
Tofutti Brands has reported higher losses and a fall in sales for the first half ended 27 June.
The US frozen and free-from business made a net loss of US$401,000 compared to a loss of $84,000 a year earlier. Its operating losses were also higher at $393,000, up from $78,00 a year earlier.
Sales fell to $6.7m from $7.4m which the company attributed to the impact of sales allowance discounts that were approximately $441,000 greater than in the corresponding period in 2014.
Lassonde warns on FX but sales, profits rise
Lassonde Industries warned the adverse affects of currency exchange could impact results in the remainder of the year but booked higher sales and earnings in the second quarter.
Sales at the Canada-based food maker rose to C$356.8m (US$272.9m) compared to C$272.4m. Operating profit increased to C$29.3m versus C$21.8m in the comparable period of last year. Net profit rose to C$14.1m compared to C$11.2m.
While Lassonde said it was "pleased" with the "solid" sales and profit growth the company sounded a note of caution on currency exchange in the last six months of the year. While we expect the unfavourable foreign exchange impact in the fourth quarter of 2015 to be higher than the average for the first three quarters, we remain optimistic about our results for fiscal 2015 as a whole," said CEO Pierre-Paul Lassonde.
Marine Harvest earnings surge
Marine Harvest achieved an operational EBIT of NOK719m (US$87.5m) in the second quarter of 2015, compared to NOK1.2bn last year.
Growth was supported by a "strong forward market", "good cash flow" and "a solid fincial position", the seafood group said.
"I am very pleased with the strong operational performance and result in Marine Harvest Fish Feed, and the good cost performance in Canada. Rising production cost in Europe due to challenging biology remains a concern," said CEO Alf-Helge Aarskog.
Marine Harvest reported operational revenues of NOK 6.5bn, compared to NOK6.56bn last year.
Q2 improvement not enough to stop H1 fall at Duc
Duc posted flat year-on-year sales in the second quarter but the French poultry processor booked lower first-half sales.
The company reported sales of EUR47.2m for the three months to the end of June, level with the corresponding period a year earlier.
The result marked an improvement from the first quarter, when sales were down 2.6%.
However, first-half sales were down 1.3% at EUR91.6m.
Duc said its work on its balance sheet meant it could "accelerate" its investment programme in cutting and packaging.