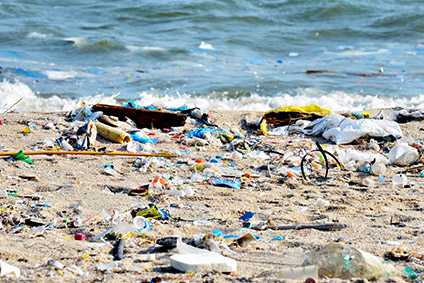 A number of the world's biggest food companies, including Nestlé and Mars, have been criticised in a study analysing their moves to reduce their use of plastic.
InTalking Trash: The Corporate Playbook of False Solutions report, sustainability pressure group The Changing Markets Foundation has accused ten big CPG businesses – the majority of which are food companies – of hypocrisy and said they have "obstructed and undermined proven legislative solutions to the [plastic pollution] crisis for decades".
Amongst the "ten biggest plastic polluters" Changing Markets claims to identifiy are Danone, Mars, Mondelez International, Nestlé, PepsiCo, Perfetti Van Melle and Unilever.
But, responding to just-food, a number of these groups have robustly defended their track-record in this area.
Changing Markets accuses the companies – which it dubs as 'Big Plastic' – of being part of "a well-organised network of organisations that fight against proven solutions to the plastic pollution crisis through similar tactics across the world".
The organisation, which has bases in the Netherlands, Belgium, the UK and the US, analysed voluntary commitments and group initiatives from the companies highlighted and suggested that they are "used to distract consumers and governments, enabling polluters to continue with business as usual".
The report claims to reveal how corporations "work behind the scenes to delay and derail legislation and ensure they can continue flooding the world with cheap, disposable plastic packaging".
Nusa Urbancic, campaigns director at Changing Markets, said: "This report exposes the two-faced hypocrisy of plastic polluters, which claim to be committed to solutions, but at the same time use a host of dirty tricks to ensure that they can continue pumping out cheap, disposable plastic, polluting the planet at a devastating rate.
"Plastic is now pouring into the natural world at a rate of one garbage truck a minute, creating a crisis for wildlife, the climate and public health. The responsibility for this disaster lies with Big Plastic – including major household brands – which have lobbied against progressive legislation for decades, greenwashed their environmental credentials and blamed the public for littering, rather than assuming responsibility for their own actions."
just-food asked all the food companies mentioned to respond to the criticisms levelled at them in the report.
A spokesperson for Mars said: "We are disappointed in the report and its assertions that Mars is not addressing this challenge. Mars is committed to playing our role in delivering more sustainable packaging and advancing our circular packaging plan.
"This is focused on reducing unnecessary packaging, redesigning the remainder for circularity, and investing to close the loop to help scale up waste management infrastructure. Our commitments, first introduced in 2019, include our pledges to achieve 100% of our plastic packaging to be reusable, recyclable or compostable. This includes 30% recycled content in our plastic packaging and ten re-use programmes in market by 2025."
Mondelez, home to brands including Cadbury and Oreo, said: "At Mondelez International we take the issue of environmental impact very seriously. We have publicly committed to make 100% of our packaging recycle-ready by 2025, and we are at 94% today. Our ultimate goal is to create zero net waste packaging and improve recycling rates, by investing in the innovation, infrastructure and consumer education that are critical for success.
"We're working hard to minimise packaging, create new materials that can be recycled and provide recycling information on-pack for consumers. For instance, building on the work in the CGF industry group, we are committed to bringing real-world solutions for food-grade recycled plastics to the market with our new Philadelphia tubs to be launched in Europe."
A Nestlé spokesperson said: "Nestlé's commitment is crystal clear. We are intensifying our actions to make 100% of our packaging recyclable or reusable by 2025 and to reduce our use of virgin plastics by one-third in the same period. We are also rolling out alternative delivery systems with reusable and refillable containers."
It added: "When plastics must be used, we're dedicated to using a greater proportion of recycled plastics in our packaging."
Unilever said in a statement: "We're under no illusion that we urgently need to get to a circular economy. We must go further faster, which is why we've committed to halving our use of virgin plastic, including an absolute reduction, by 2025.
"We know there is no single solution or quick fix and are fundamentally rethinking our approach to packaging and products. To reach our goals, we are introducing innovative packaging materials, creating new business models and using more recycled plastic, and doing so at unprecedented speed."
A Danone spokesperson said: "More than being on track to achieve our aim of having 100% of our packaging either reusable, recyclable or compostable, we have lifted up our ambition by committing to reintegrate at least 50% of recycled materials in all of our packaging by 2025 including plastic. Danone is perfectly on track to achieve its ambition."