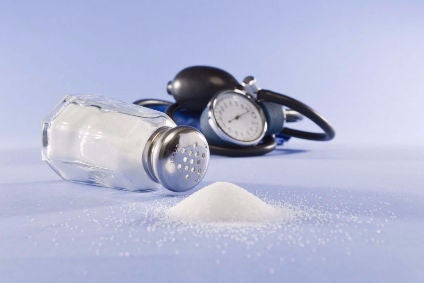 Health campaigners have accused some food manufacturers and retailers of "dragging their heels" over the UK's salt reduction targets for 2017.
According to research published by Consensus Action on Salt and Health (CASH), just one of 28 product categories surveyed meets the maximum salt target agreed for 2017 by government with industry, NGOs and other stakeholders. The only category to hit the maximum – but not average – salt target was bread rolls, CASH revealed this morning (20 March).
"The shopping basket analysis reaffirms the public health goal of consuming no more than 6g salt per person per day is achievable, yet manufacturers are dragging their heels," CASH said in a statement.
Detailing its findings, CASH pointed to UK soup maker Baxters Food Group and said the company's Chef Selections cullen skink had more than 1.5 times the maximum salt level for soup. The campaign group noted Aldi's own-label smoked mackerel had four times the target for "meal centres", and said Mars Inc's Galaxy marshmallow hot chocolate had five times the target for beverages.
CASH also stressed there is a large variation between the salt content of products. For example, according to the survey, Kellogg's Crunchy Nut Nuts & Caramel Bites contain 97% more salt than Associated British Foods' Jordans Country Crisp with Sun-Ripe Strawberries, which include 1.13g of salt per 100g and 0.03g of salt per 100g respectively.
The campaign group called on UK health authorities to "immediately ensure" that the 2017 goals are met and demanded new salt reduction targets are set for 2020. CASH suggested bodies like Public Health England should also step up efforts to educate the public about healthy salt consumption levels.
Katharine Jenner, nutritionist and campaign director for CASH, said: "We are shocked to see that many food manufacturers and retailers are still failing to meet the salt reduction targets, despite having had years to work towards them. We congratulate the other, more responsible manufacturers that have successfully achieved them, or are on track to meet them by the end of the year – which shows it is possible. With only nine months to go, action must be taken now."
CASH claimed that cutting average salt intakes in the UK could prevent up to 14,000 deaths each year.