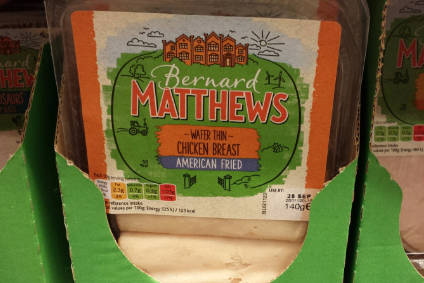 Europe's largest turkey producer, Bernard Matthews, has been acquired by the private investment vehicle of Ranjit Singh Boparan, the chief executive of the UK's 2 Sisters Food Group.
B&G Foods has entered into an agreement to buy the spices and seasonings business of ACH Food Companies, a US arm of Associated British Foods.
The Grocery Manufacturers Association is among a coalition of 120 US organisations representing sectors including manufacturing and retail that has raised concerns with the US Commerce Department over the bankruptcy of Hanjin Shipping.
The Irish government has launched a ten-year national obesity plan that outlines a series of proposals including a tax on sugary drinks, the setting of maximum portion sizes, restrictions on marketing and reformulation targets.
German dairy Müller is increasing its investment in the UK by an additional GBP100m (US$130.3m) over the next 18 months in a bid to grow the category in the country.
General Mills reported lower first-quarter profit today (21 September) as sales failed to meet the company's expectations.
Real Good Food, the UK bakery and ingredients company, has set up a US-based subsidiary in a bid to expand its export business in the Americas.
Fonterra said today (22 September) its strategy to focus on higher-value products is paying off as it delivered a 65% jump in annual net profit.
Synlait Milk, the New Zealand infant formula manufacturer for brands like A2 Platinum and Munchkin, has set out plans to spend NZD300m (US$219.7m) over the next three years in areas including production and packaging.
Thirty additional companies, including Burton's BISCUIT Co. and Dairy Crest, have joined the Courtauld Commitment 2025 in a bid to reduce the resource intensity of the UK's food sector.