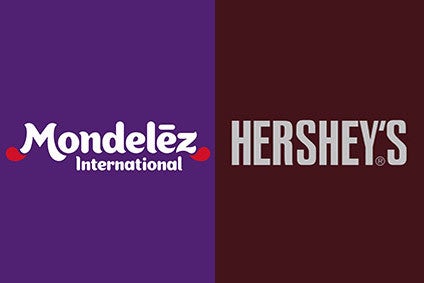 Hershey revealed that it has turned down a takeover approach from Mondelez International, rumours of which had caused the US chocolate group's share price to sky rocket. Nestle named Ulf Mark Schneider as the man who will assume its helm when current CEO Paul Bulcke takes up the post of chairman at the end of the year. And, as the dust settles, we continued to assess the fallout of Brexit. Here are the highlights from just-food this week.
Hershey revealed today (30 June) that its board has "unanimously rejected" a takeover approach from Mondelez International valuing the US chocolate company at US$107 per share.
The director general of the Food and Drink Federation (FDF) has slammed the UK government for failing to have a coherent plan in place in the event of a Brexit vote, following the first meeting of business leaders since the referendum.
US Trade Representative Michael Froman has said the US still values the planned Transatlantic Trade and Investment Partnership with the EU, despite the UK referendum vote to leave the bloc.
Nestle has this afternoon (27 June) announced Ulf Mark Schneider, the chief executive of Germany-based healthcare company Fresenius, as the new CEO of the world's largest food maker.
Nestle's local business model enables it to weather challenges presented by events such as Brexit or the Russian trade embargo, Luis Cantarell, the head of the group's operations across Europe, the Middle East and north Africa, tells just-food. However, following a period of portfolio pruning, the Swiss company must also actively manage its global businesses to focus on areas of growth, Cantarell reveals.
The National Farmers Union has warned the UK's decision to leave the EU will likely result in a short-term spike in the price of food in the country.
Mars Inc today (29 June) announced a "global strategic business partnership" with China-based online and mobile commerce firm the Alibaba Group.
General Mills is the owner of US legacy food brands that have been hard hit by sweeping changes to consumption. The company, which has tried break into growth areas such as natural and organic, revealed yesterday (29 June) that it will start to prioritise its investment behind the "75%" of its portfolio it has identified as "growth businesses". Will this approach prove effective?
The owners of Europe's largest turkey manufacturer, Bernard Matthews, are considering selling the business.
Quorn Foods, the UK-based meat-free supplier, has enjoyed solid growth in recent years on the back of growing consumer interest in reducing – or eliminating – meat from their diet. Now owned by Philippines-based Monde Nissin after a deal last autumn, Quorn expects its expansion to continue, CEO Kevin Brennan and Andrew Staal, the company's international director, tells John Shepherd.