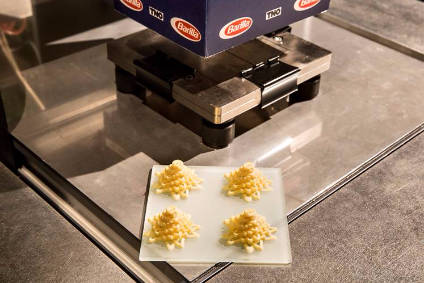 The week's most eye-catching soundbites feature Mars on its move to take full control of Wrigley, Unilever explaining its revamp of its R&D in food and our interview with Barilla on the pasta giant's testing of 3D printing.
"Sole ownership of Wrigley provides us with an opportunity to rethink how we simplify our chocolate and Wrigley businesses so that we can bring a more holistic approach to this vibrant category" – Grant Reid, of the office of the president and CEO at Mars, outlines what he sees as the benefit of the company taking full ownership of the chewing gum maker.
"Consumers are increasingly demanding true commitment from companies. However, they also reward this commitment with their loyalty. In this respect, Emmi's ambitious sustainability efforts are an important prerequisite for future business success" – Emmi CEO Urs Riedener explains why the Swiss dairy group has drawn up targets on sustainability and made the public.
"We need to consolidate in an ecosystem in order to deliver disruptive innovations" – a spokesperson for Unilever explains why the FMCG giant has decided to put its European research and development into food into a new site in Wageningen in the Netherlands.
"This market will be at least 15 times larger than the gluten-free market" – Tim Mottin, director and co-founder of Australian certification body FODMAP Friendly, claims the low-FODMAP market will usurp gluten-free.
"ADM is continuing to deliver on our strategy to create shareholder value by expanding our capabilities downstream in the value chain" – Vince Macciocchi, president of Archer Daniels Midland's Wild Flavors and speciality ingredients business, explains why the US agribusiness group has snapped up private-label pasta maker Caterina Foods.
"We want to build a poultry business based on innovation and high value, quality products and one which is capable of defending the position of French poultry producers on European and world markets" – Hubert Garaud, the president of Terrena, on the French co-op's plan for a three-year investment programme worth EUR150m for its expanded poultry division.
"We strengthen our position in foods in the foodservice market and very specifically we get a much bigger presence in the areas of hotels, restaurants and cafes" – Van Geloven CEO Peter Doodeman tells just-food why the Dutch food group – majority-owned by McCain Foods – has snapped up a clutch of brands and plants from local peer Royaan.
"France has actually been a lot slower to develop, so it remains a market still in strong growth. There is a wider shift towards free-from foods – not just gluten free, but dairy and meat-free – in terms of younger consumers" – Chris Brockman, Mintel's research manager for food and drink in Europe, the Middle East and Africa, touts France as a gluten-free market to watch.
"We are now working to improve the time to print; our target is to print one full plate of pasta in two minutes" – we talk to Fabrizio Cassotta, R&D research manager for meal solutions at Barilla, about the pasta giant's tests on 3D printing.
"We are considering other potential locations for the nutritionals plant to ensure that we have the most appropriate and cost-effective location. At this stage no final decision has been made" – David Mallinson, the interim CEO of Murray Goulburn, says the Australian dairy group is weighing up its plans to build a nutritional powders plant at its site in Koroit in the south-east of the country.