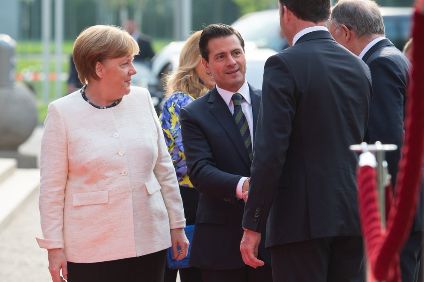 The European Union and Mexico have reached a new agreement on trade which means the flow of goods between them will now be largely duty-free.
The deal comes two years after negotiations began.
The trade compact is part of a broader global agreement that covers issues including climate change and human rights. The European Commission said the agreement – which needs to be finalised and approved – brings the EU's trade relationship with Mexico into the modern era, tearing down most of the remaining barriers to trade.
Food exports from the EU that are set to benefit include poultry, cheese, chocolate, pasta, and pork.
There will be duty-free trade for virtually all pork products and no tariffs for products such as chocolate (currently up to 30%) and pasta (currently up to 20%).
The deal will also provide preferential access for cheeses such as Gorgonzola and Roquefort and ensure the protection from imitation for 340 distinctive European foods and drink products in Mexico, so-called geographical indications.
This means that EU producers of traditional delicacies will not struggle to compete against copies, Brussels said.
The volume for milk powder exports from the EU to one of the largest markets in the world has been agreed at 30,000 tonnes, rising to 50,000 tonnes after five years.
In the other direction, EU tariffs will be scrapped on Mexican orange juice, tuna, honey, agave syrup, fruits and vegetables, among other products.
European Commissioner for Agriculture Phil Hogan said: "This agreement proves yet again the value of the EU leading from the front globally in promoting open and rules-based trade.
"Our commitment is to deliver benefits for our citizens at home through closer cooperation with our partners abroad. This deal is very positive for our agri-food sector, creating new export opportunities for our high-quality food and drink products, which in turn will create support more jobs and growth, particularly in rural areas."
Since the previous EU-Mexico trade agreement came into force in 2000, trade between the EU and Mexico has risen at a rate of around 8% per year, resulting in an overall increase of 148% in trade in goods over the period.
Negotiators from both sides will now continue their work to resolve the remaining technical issues and finalise the full legal text by the end of the year. Then the Commission will submit it for approval by the European Parliament and Council of the EU.
European food industry body FoodDrinkEurope said it welcomed the 'in principle' agreement.
"While the information available so far on additional market access for EU food and drinks to Mexico is positive, we are keen to learn more about the full details of the agreement and hope it will match expectations of European food and drink manufacturers across the board," it said.
just-food has contacted ProMexico, a government body which promotes international trade, for its reaction.
Mexico is in on-going talks with the US and Canada on overhauling the North American Free Trade Agreement. About three-quarters of Mexico's exports go to the US.