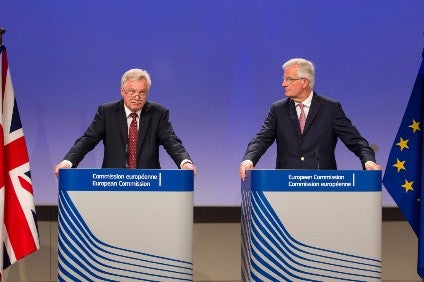 UK food-industry bodies today (19 March) gave a mixed response to the post-Brexit transition period struck between London and Brussels this morning.
Negotiators David Davis, for the UK, and the EU's Michel Barnier, have agreed a deal that is intended to allow the UK to leave the EU in an orderly manner.
The transitional period is set to last from 29 March, 2019 (the date of Brexit) to December 2020, and is designed to not only smooth the path to a future permanent relationship but give businesses breathing space to come to terms with new arrangements.
The deal agreed today (19 March), which it is hoped will be ratified by UK Prime Minister Theresa May and European leaders at an EU summit this week, allows the UK to negotiate and sign trade deals during the transition period and builds in the rights of the 4.5m EU citizens in the UK and the 1.2m UK citizens in the EU after Brexit.
But issues still to be resolved include the Northern Ireland/Republic of Ireland border.
The proposed deal will include an emergency "backstop" option to avoid a hard border that could see Northern Ireland effectively staying in parts of the single market and the customs union, if no other deal can be agreed.
Such a deal has already been ruled out by Prime Minister May and is staunchly opposed by Northern Ireland's Democratic Unionist Party (DUP), which is shoring up the UK's Conservative minority government.
The UK's Food and Drink Federation suggested it is not entirely satisfied with the length of the transition period
Its director general Ian Wright said: "While it is positive to see how much has been agreed so far, particularly in relation to citizens' rights, and a time-limited transition period, FDF has long supported a transition period of at least two years. Transition must not be open-ended but its end point will depend on how quickly the nature of our future trading relationship with the EU is confirmed.
"Some food and drink businesses will be ready earlier than two years but transition must not end until the bulk of the industry is ready and we have confidence in the systems on both sides of the Channel.
"Food and drink manufacturers are now looking for serious reassurance from Government that will not press ahead at any economic cost and that they will be flexible if systems – particularly customs – are not ready in 21 months' time.
"Similarly, negotiations must avoid a hard border on the island of Ireland, where ingredients, finished products and workers cross the border many times a day. Until the appropriate technological solutions can be found, then the option of a regulatory backstop must be left on the table."
The terms of the agreement contained details on fishing. EU quotas will continue after the transition period, allowing member states to fish in UK waters.
On fisheries, Davis said: "We've … agreed specific safeguards when it comes to annual fishing negotiations. These arrangements will only apply for the negotiations in 2019, since we will still be a member state for those that take place at the end of this year.
"Through 2020 we will be negotiating fishing opportunities as an independent coastal state, deciding who can access our waters and on what terms. For the year where it is relevant, we have agreed the European Union will have to consult us ahead of the negotiations. And the United Kingdom's share of the total catch cannot be changed, protecting the interests of the United Kingdom fishing community."
Suggesting the terms of the transition deal meant the UK government has backed down on its demands to take back full control of fisheries policy during the transition phase, The Scottish Fisherman's Federation described today's agreement as "far short of acceptable".
Its chief executive Bertie Armstrong said: "We will leave the EU and leave the CFP [Common Fisheries Policy] but hand back sovereignty over our seas a few seconds later. Our fishing communities' fortunes will still be subject to the whim and largesse of the EU for another two years.
"Put simply, we do not trust them to look after us."
Broader UK business groups have given today's deal their backing.
Carolyn Fairbairn, director general of the Confederation of British Industry (CBI), said: "Agreeing transition is a critical milestone that will provide many hundreds of businesses with the confidence to put their contingency planning on hold and keep investing in the UK.
"This is what businesses have been calling for since last summer. It brings a welcome gift of time for firms on both sides. While some sectors may need more than 20 months to prepare for post-Brexit life, this is a victory for common sense that will help protect living standards, jobs and growth."
Dr Adam Marshall, director general of the British Chambers of Commerce, said: "The agreement of a status quo transition period is great news for trading firms on both sides of the Channel, as it means that they will face little or no change in day-to-day business in the short term.
"While some companies would have liked to see copper-bottomed legal guarantees around the transition, the political agreement reached in Brussels is sufficient for most businesses to plan ahead with a greater degree of confidence."