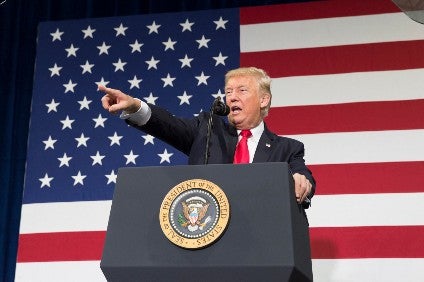 The US has upped the ante in its trade war with China by finalising the list of imported products, worth an estimated US$200bn, to be hit by tariffs.
The list, formalising a threat made by the US back in July, includes many food items.
Beijing has said it will retaliate in kind, as it did when the US unveiled tariffs on $34bn worth of Chinese imports in the summer.
The US claims the newly-announced tariffs – 10% from 24 September, rising to 25% on 1 January next year – are a response to China's "unfair trade practices".
In language guaranteed to elicit a response from Beijing, the US talked of China's "theft of American intellectual property and forced transfer of American technology".
The list of tariff targets includes a relatively small number of meat items – including frozen retail cuts of pork and some offal – but a large number of fresh fish and seafood items as well as a wide range of fruit, nuts and vegetables.
It also targets products including butter, flour, tinned salmon and herring, sugar confectionery, pasta, bread, pastry, cakes, biscuits, jams, fruit jellies, peanut butter, tinned fruit and soy sauce.
The list contains 5,745 full or partial lines of the original 6,031 tariff lines that were on the proposed list of Chinese imports announced on 10 July.
Changes to the proposed list were made after US Trade Representative and the inter-agency Section 301 Committee sought and received comments over a six-week period and testimony during a six-day public hearing in August.