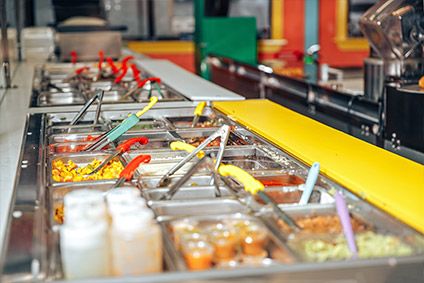 Trade groups representing UK food and drinks manufacturers have joined hands to urge the Government to take action to provide support to those supplying the country's foodservice sector, which has been hit hard by the lockdown.
Led by the Food and Drink Federation (FDF), which represents the interests of food manufacturers and soft-drinks producers, the trade body group is recommending Prime Minister Boris Johnson employ both capital and tax breaks to enable manufactures to retain employees. And to free up cash, they are asking the Government to put a moratorium on debt owed to local and central authorities at least until the hospitality sector fully reopens.
In their report, the FDF and counterparts including the Provision Trade Federation and the British Frozen Food Federation (BFFF), have termed food and drinks producers that either exclusively serve foodservice or hospitality customers, or which cover those segments as well as retail but cannot repurpose product from the out-of-home segment, as "the squeezed middle". The report highlights how many of these players are small- and medium-sized enterprises (SMEs), which tend to be more vulnerable to a downturn in business.
"We feel that the position of this wider food and drink manufacturing industry, its 7,400 businesses and the 430,000 people it employs across every region and nation of the UK, as well as its supply chain, have received far less attention" than the front-facing retail, hospitality and foodservice sectors themselves, the report said.
"As a result, there are concerns that the restarting of the hospitality and foodservice market could be negatively affected by the inability of its supply chain to restart."
It continued: "Supply chains have been thoroughly modernised in recent years with significant efficiency gains. To achieve this, manufacturers have become more specialised in terms of the supply chains into which they deliver.
"As a result, those manufacturers and suppliers focused on the hospitality and foodservice market have suffered a loss of business just as significant as their customers. Despite this, the level of assistance is, we believe, currently poorly focused and will not be able to deliver the recovery plan we believe Government is working towards."
To that end, other group recommendations include the creation of a scheme in support of SMEs to provide cash to secure orders for raw materials and/or to build inventory in preparation for when the market opens up again.
Also featuring in the list of 12 recommendations, is the continuation of the government's furlough support scheme "until those markets return to commercially viable levels". National insurance and PAYE tax contributions should also be deferred until the end of September, assuming such business have returned to "a commercially viable level of operation".
The group is also calling for similar measures for VAT and concessions on trade credit insurance, including backdating insurance cover. And the government should extend the 12-month Local Authority Business Rates exemption to those manufacturers supplying the hospitality and foodservice market, "using the existing legislative exemption for hardship", the report said.
"For those businesses [manufacturers] who are predominantly supplying into the wider hospitality and foodservice market, there is a need to ensure they are supported using similar mechanisms to those in place for the hospitality and foodservice market," it added.