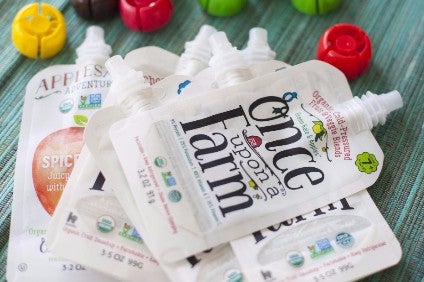 John Foraker, the former CEO of US food group Annie's, has joined fledgling local baby food business Once Upon a Farm as its chief executive.
Foraker, who was the Annie's CEO between 2004 and 2014, stayed with the business when it was acquired by General Mills three years ago.
He announced his departure from General Mills last month and it emerged this week he is to take the helm at the San Diego-based Once Upon a Farm, a business set up two years ago by entrepreneurs Cassandra Curtis and Ari Raz.
Foraker has been announced as co-founder and CEO. Actress Jennifer Garner has also joined the business as co-founder and chief brand officer. Curtis holds the role of chief innovation officer, with Raz as president.
Once Upon a Farm offers a line of cold-pressed organic baby foods and apple sauces. Products are available at grocers, including select Wegmans, Kroger and Whole Foods Market stores. The company said it is "looking toward nationwide availability in 2018". It also has plans to "grow into other categories".
Foraker said: "We'll not only provide high-quality foods that kids love but, perhaps even more importantly, we are committed to driving positive social change and food justice for the benefit of parents, kids and families."