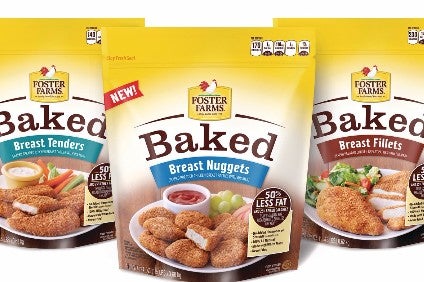 Foster Farms claims to be the first US major poultry producer to introduce a full line of baked chicken products that are half the fat and contain 25% fewer calories of traditional products.
The new Baked range hopes to appeal to more US households that are looking to cut down on fried and potentially unhealthy food products for their families.
Foster Farms has developed fully cooked products suitable for all meal times and snacks with both frozen and breaded options. The range includes Frozen Farms Chicken Breast Tenders, Chicken Breast Fillers, and Chicken Breast Nuggets.
Dave Hansen, Foster Farms' group vice president of retail sales, said it was keen to introduce a new "great tasting" range that did not rely on frying. "This Baked line is a real innovation for the category and the initial reception by consumers has been outstanding," he added.
The calorie and fat saving aspect of the new range means consumers will be eating 170 calories and seven grams of fat for each regular serving of nuggets compared to what Foster Farms claims is 240 calories and 14 grams of fat in a traditional chicken nugget product. It has also produced comprehensive guides to the nutritional contents of each of the new lines on its website.
The new range can be prepared either in the oven or microwave with cooking times of 20 minutes and four minutes respectively.
They come in 24-ounce (tenders and nuggets) and 22-ounce (fillets) re-sealable bags and retail for US$8.99.
Foster Farms is based in California's Central Valley and has over 30 farms situated across the Pacific Northwest.