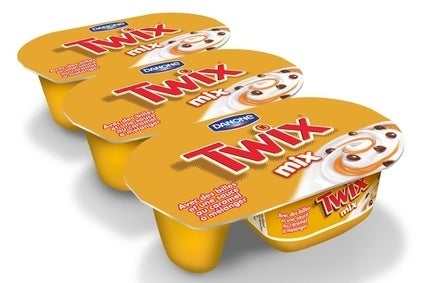 Danone has introduced a range of yoghurts developed with Mars that were first launched in France into three more European markets.
The Danone Mix range, which went on sale in France last month, is now available in Germany, Austria and Switzerland.
The yoghurts are co-branded with Mars chocolate lines like Bounty and Twix. Four yoghurts have been developed, each containing pieces and a sauce characteristic to the Mars brands. The Bounty line, for example, includes chocolate pieces, plus a chocolate and coconut sauce.
Danone said the yoghurts were targeted at "adolescents and young adults" and were developed amid growing demand "indulgent" yoghurts. In France, the yoghurts cost EUR2.49 (US$3.34) for three cups.
The yoghurts are manufactured as Danone's yoghurt plant in Rosenheim in south-easten Germany, close to the border with Austria.