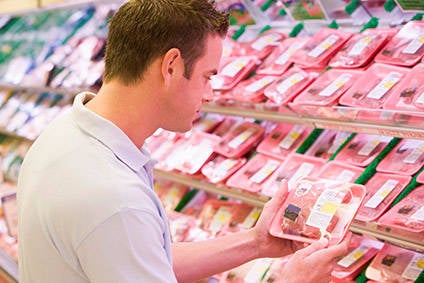 Thirty per cent of meat products on sale in France do not meet labelling or traceability requirements, according to a study by the DGCCRF, the country's consumer protection agency.
The results of a 2018 investigation have been published, a probe that checked more than 1,900 establishments covering much of the meat supply chain.
In its report, the DGCCRF said it issued warnings, injunctions or filed reports to nearly 40% of the establishments inspected over labelling and traceability standards.
The watchdog said investigators had raised concerns about so-called "francization", where operators make consumers believe meat is of French origin. Information on the regional origin of meat products and on quality logos were also highlighted as areas of concern.
At traditional butchers and in the butcher's departments of grocery stores, the investigators noted "the frequent absence of the indication of origin", in particular for veal, the DGCCRF noted. "In most cases, since the origin of the animals is French, professionals refrain from indicating the origin of the meat," the regulator said.
On traceability, the watchdog claimed traceability management systems could be improved. It found, for example, errors when recording batches on arrival or that the time of packaging are not detected.
"Professionals must be aware of the issues associated with the implementation of reliable traceability procedures in their establishments. In this regard, the investigators noted that the establishments that now fully comply with these procedures are those that have previously been checked and invited to comply," the DGCCRF said.
"All across Europe, consumers want to be properly informed about the origin of food, and in particular the origin of meat. In France, in order to meet this strong expectation, the DGCCRF is renewing its controls of the operators concerned in 2020."