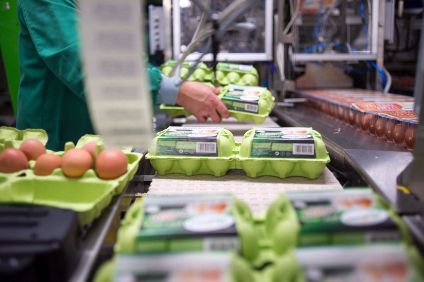 French agri-food group Avril plans to sell its eggs and pork operations as the business consolidates activities around four strategic areas in condiments and cooking oils, plant-based products for humans and animals, ingredients and energy.
The move will entail the disposal of Avril's retail eggs business Matines and its foodservice counterpart Ovoteam, a spokesperson for Paris-based Avril told just-food. The company will also offload its Abera pork abattoir business in Saint-Brice-en-Coglès, Brittany, and its majority shareholding in pork processor Porcgros in Rungis.
No time frame has been set for the disposals as Avril is keen to find a suitable buyer for the operations that will support their growth as the company moves "away from animal processing to develop and strengthen our positions in the four strategic priority areas", the spokesperson said, adding the group has an "ambition to make Avril the leader in plant-based solutions for the food, agricultural and environmental transitions".
Avril gave an inkling of its intentions in its 2020 annual results issued this week, when the group reported revenues of EUR5.8bn (US$6.9bn), down 1.3% from the previous year. EBITDA rose 42.9% to EUR243m, while net income increased 68.6% to EUR68.6%.
The spokesperson confirmed  "animal processing activity" represented 8.5% of Avril's turnover and 1% of EBITDA.
Despite Avril's commitment in 2018 to move to away from caged eggs by 2025 to free-range and organic eggs, the business has under-performed.
In its results commentary, Avril noted: "The eggs activity (packaging of eggs and manufacture of egg products) continued to make losses in 2020 despite the restructuring undertaken. In addition to the historical difficulties linked to the transition in farming methods, the health crisis caused out-of-home catering to be shut down."
The pork business is being cut despite a good performance last year linked to demand from China, where the pig herd was devastated by an outbreak of African swine fever.
"Our pork slaughtering and cutting business had a record year, supported by Chinese demand and the development of our downstream activities," Avril said.
However, the spokesperson said the planned disposals are not linked to the machinations around Covid-19.
Jean-Philippe Puig, the CEO of Avril, said in the earnings release: "Our performance in 2020 bears witness to the success of our model and the strengths of our team, which managed to stay mobilised during the crisis in order to ensure the continuity of our mission. This new ambition, central to our purpose, will soon result in bold investment choices, which will help make Avril the leader in plant-based solutions, serving the nutritional, environmental, and agricultural transitions."
Avril added it plans to develop the consumer-brand portfolio domestically and internationally around cooking oils, seed oils, condiments and soaps, "as well as in the new, fast-growing vegetable protein segments".