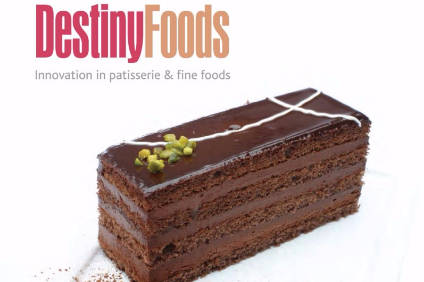 France-based dessert maker La Compagnie des Desserts (CDD) has merged with the UK's Destiny Foods to create what the companies said will be a GBP60m ($73.6m) turnover business.
The companies said in a statement the deal was completed through European private-equity firm Argos Soditic, which takes "a controlling stake" in CDD's capital alongside CM-CIC Investissement and CDD founders Didier and Sylvie Barral."
The companies did not respond to a request for comment on whether Argos would have a majority stake in the combined business.
"The merger will help drive Destiny Foods' mission to become the UK's leading speciality dessert foodservice supplier, allowing the business to continue its growth plans by incorporating La Compagnie des Desserts continental dessert and patisserie ranges," the companies' statement said. "This includes in-demand French patisserie, flans, breads and gelato ice cream products."
Destiny Foods managing director Richard Watts said: "We will pool our knowledge and product ranges to bring CDD's quality French desserts and ice-cream to the UK market, as well as using CDD's distribution network to better serve our European customers. La Compagnie des Desserts is the ideal partner for Destiny Foods. Both companies share the same ethos and values in providing high-quality desserts, excellent customer service and combined manufacturing facilities."
Watts founded Destiny Foods in 1990 under the name Classic Catering. It rebranded to Destiny Foods in early 2013. The company employs 160 and said its clients include breweries, blue chip companies, sporting venues, premiership football clubs, hotel chains, restaurants and independent catering outlets.
CDD said it generates revenues of EUR61m (US$63.7m), "plus 12% growth through the operation of three frozen desserts manufacturing plants and one ice-cream factory in France as well as sales subsidiaries in Spain, UK, Switzerland and the US". Earlier this year, CDD said it acquired the Mont-Blanc Dessert ice-cream manufacturing facility in New York City "to address the specific needs of the US market".