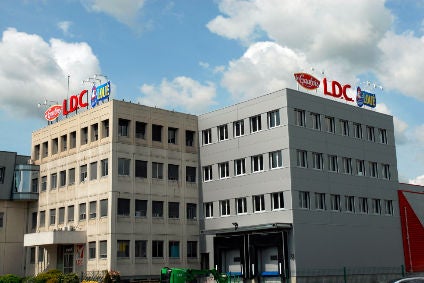 LDC, the French poultry supplier, has inked a deal to buy a production facility from the Casino Group, one of the country's largest supermarket chains.
The company is buying the Luché Tradition Volailles production plant near Le Mans which specialises in poultry packing and handling raw poultry products. Financial details have not been disclosed.
The Casino Group acquired the facility in 2015 and has since invested in a large-scale modernisation plan on the site. Some 131 people work there.
LDC operates 86 production plants in France and Eastern Europe and employs more than 21,800 people. Its brands include Loué, Le Gaulois, Maître Coq and Marie and it also manufactures private-label products for retailers.
It is a long-standing partner of the Casino Group, with a relationship dating back to 1970.
The companies said the transaction "represents an opportunity for the Casino Group and LDC to combine their resources and thereby strengthen the high-quality French poultry chain, while complying with best practices for animal well-being and innovating with more environmentally-friendly products and packaging".
All of the employees currently working at the Luché Tradition Volailles facility will be retained.
In July, LDC bought Kiplama, an import and distribution business based in Belgium.