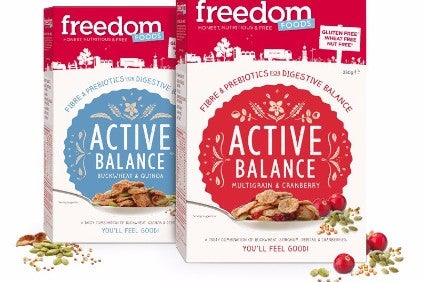 Australia's Freedom Foods Group has halted trading in its shares after telling the market its CEO and managing director Rory Macleod was "on leave pending a further announcement".
The news comes just a day after the company announced to the Australian Securities Exchange (ASX), on which it is listed, that CFO and company secretary Campbell Nicholas has resigned with immediate effect.
That news led to its shares plunging by more than 16% by mid-morning yesterday (23 June), which may have influenced its decision to halt trading this morning.
In its statement to the ASX this morning, Freedom Foods, which produces free-from cereals and snacks and also supplies fresh milk, milk drinks and plant-based beverages, said an announcement relating to Macleod's position will be made early next week.
Freedom Foods added it has appointed former Rockstar Energy Drink managing director and current commercial director Brendan Radford as acting CEO, while Perry Gunner has been appointed executive chairman.
Yesterday's announcement that CFO and Campbell Nicholas had resigned and today's news about CEO Macleod comes less than a month after Freedom Foods said it expects full-year profits to be "materially impacted by the Covid-19 outbreak as the crisis hit sales in the out-of-home segment.
In its trading update on 29 May, Freedom Foods said it expected to incur an estimated writedown of AUD25m (US$16.6m at the prevailing exchange rate) on the carrying value of inventory linked to the consolidation of the company's "external warehousing activities, together with a detailed review of product offerings and formats".
Toda,y Freedom Foods said Stephanie Graham, group general manager corporate development, has been appointed acting CFO.