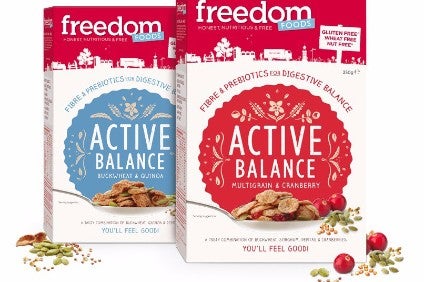 Embattled Australian manufacturer Freedom Foods Group has appointed agribusiness man Michael Perich as interim CEO, with immediate effect.
The company, which produces free-from cereals and snacks, and also fresh milk, milk drinks and plant-based beverages, has been undertaking a review of its accounts as part of ongoing investigations into possible fraudulent activity. Perich, in his capacity as an alternate director of the company, has been taking "a lead role" in this action, Freedom Foods said in a statement this morning (6 August), to the Australian Securities Exchange (ASX), on which it is listed.
It added: "While the review is still ongoing, it has become clear that for the successful recapitalisation of the company there is a need for executive ownership and accountability to implement the operational turnaround. This cannot wait for an external search for a new CEO to be completed.
"Michael Perich has a deep understanding of the business and will provide the stability, focus and leadership required as the company manages the issues that have been previously reported to the ASX."
Perich will step down from his role as a non-executive alternate director, while Perry Gunner will immediately cease his role as executive chairman and resume his role as non-executive chairman.
Brendan Radford, who stepped into the role of acting CEO, will be returning to his previous role in Freedom Foods.
The search for a permanent CEO and a permanent chief financial officer is ongoing. Stephanie Graham will continue in the acting CFO role until an appointment is made.
Perich has enjoyed a 25-year career in the agribusiness sector, most recently as director of dairy farm operations at the diversified farming business Leppington Pastoral Company and joint managing director of Australian Fresh Milk Holdings.
Freedom Foods has seen the departure of a number of executives in recent weeks.
At the end of June, the company said it had engaged professional firms Ashurst and PwC to assist with its internal investigation.
In a call with analysts on 25 June, the company said it was probing the possibility of fraudulent activity after booking fresh write-downs, which followed the departure of its CFO Campbell Nicholas and a leave of absence for CEO Rory Macleod, who has since resigned.
The company has voluntarily halted trading in its shares until October while the investigation continues.