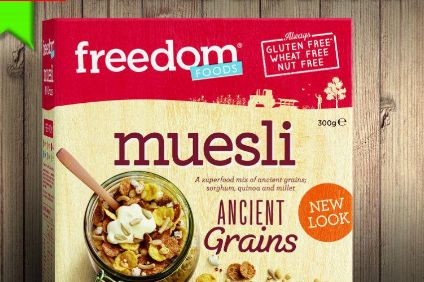 Australia's Freedom Foods Group has announced that CEO Rory Macleod – said to have been "on leave" since last week – has resigned.
In an announcement today to the Australian Securities Exchange (ASX), on which it is listed, the under-scrutiny business said it accepted Macleod's resignation as CEO and managing director of the company yesterday (29 June).
Freedom Foods said he has resigned from all board and executive positions.
The company, which produces free-from cereals and snacks and also supplies fresh milk, milk drinks and plant-based beverages, also confirmed it had engaged professional firms Ashurst and PwC to "assist with ongoing investigations into the company's financial position".
In a call with analysts on Thursday (25 June), the company said it was probing the possibility of fraudulent activity after booking fresh write-downs, which followed the departure of its CFO and a leave of absence for the aforementioned Mcleod.
That call came at the end of a week of turmoil for the business, which also included the announcement of redundancies.
Perry Gunner, named Freedom Foods' executive chairman on Wednesday (24 June), after Macleod's – at that stage temporary – departure, told analysts on that call the group is committed to resolving the current issues and "ensuring that we regain the confidence of investors as soon as possible".
During the call, Gunner cited a series of cancelled export orders and admitted Freedom Foods would have to revise its Asian trading strategy. He also said retailers had de-listed a number of products, which would force the company to rationalise its brand range.
Analysts were told Freedom Foods had widened its write-down estimate for its 2020 financial year from AUD25m (US$17.2m) to AUD60m to reflect the provisioning for obsolete inventory, out-of-date stock and product withdrawals. However, the company added "this revised estimate is still subject to further analysis, year-end review processes and audit as part of the finalisation of the financial year 2020 results".
On the subject of the increased write-down, Gunner was asked if he was aware of any fraud. He said the company was "undertaking further investigations".
Freedom Foods' week of turmoil began last Tuesday (23 June) when it was announced CFO and company secretary Campbell Nicholas had resigned with immediate effect.
That news led to the company's shares plunging by more than 16% by mid-morning which in turn led to Freedom Foods halting trading in its shares on Wednesday, when it also made the announcement about Macleod. Trading in its shares has been suspended for 14 days.
On Thursday (25 June), the company told the ASX that 61 staff positions are to be terminated with 41 workers losing their jobs, and informed the market about the widening of its write-down estimate.