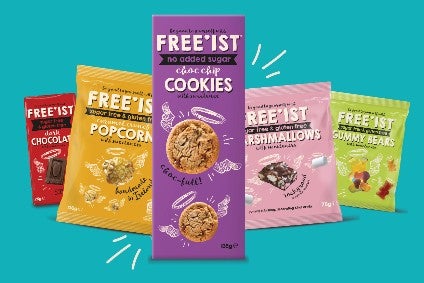 Sugar-free snacking firm Free'ist is launching an investment drive as part of a strategy to double turnover for the UK business to GBP5m (US$7m) this year.
The Belfast-based manufacturer of confectionery, popcorn, cookies and marshmallows is undertaking a rebranding exercise to freshen up its range, four years after the company was founded in 2013. With a capital injection of GBP250,000, Free'ist has developed a new e-commerce web site and taken on extra sales staff as part of its growth ambitions in the sugar-free and no-added sugar snacks category.
Managing director Gerard McAdorey told just-food that the business generated revenue of GBP2.5m last year and is aiming for a turnover of GBP10m by the end of 2019.
"We have ambitious plans for Free'ist throughout 2018 and beyond," McAdorey said in a separate statement.
He added: "Since launching four years ago, the 'free from' market has grown significantly. Consumers are more aware of sugar content than ever and we continue to witness a rise in people seeking out sugar-free snack options by way of choice, rather than other reasons such as an existing medical condition."
As well as selling into the UK and Ireland, Free'ist has an international presence, including in Spain and the United Arab Emirates. McAdorey told just-food he recently attended the ISM trade fair for sweets and snacks in Cologne, Germany, where the company received interest from potential European buyers.
Free'ist is also debuting new products and has just launched sugar and gluten-free Impulse Bars – available in milk chocolate, dark chocolate and white chocolate – along with a range of chewy sweets – Gummy Bears, Cola Bottles and Gummy Worms, marking its first foray into candy.
Its products are available in Tesco branches in Ireland and the Republic of Ireland, as well as a number of independent food-to-go outlets and and retail checkout points. Talks are currently underway to launch in Tesco in the UK, Sainsbury's, Morrisons and Asda.
McAdorey said: "Our aim is to provide a diverse range of products which contain no sugar or no added sugar and, most importantly, taste great. We have worked hard to achieve that and the results are paying off through a number of significant retail contracts."