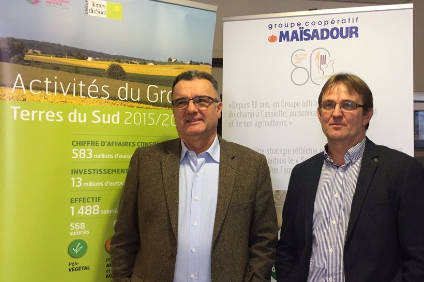 French agri-food co-ops Maïsadour and Terres du Sud have unveiled plans to set up a vehicle to pool their interests while remaining independent.
The co-ops say the move, which is subject to the approval of competition chiefs and members of both organisations, "is a first step towards the construction of a major co-operative project" that would also be open to other bodies.
A spokesperson for the co-ops told just-food today (23 January) the new business will be a new venture equally owned 50-50 by the two cooperatives and each will retain their respective food brands. The spokesperson declined to comment on details of how the new business would be run, other than to confirm the existing co-ops would control the business equally.
The venture would represent a total of 14,000 member firms and 7,500 employees with a combined turnover of EUR2bn (US$2.15bn).
Brands marketed by the new entity would include Maïsadour's Delpeyrat and Comtesse Du Barry, as well as Terres du Sud's brands Delmond Foie Gras and Blason d'Or poultry.
Maïsadour president Michel Prugue and Terres du Sud president Patrick Grizou said in a joint statement the aim is to "gradually converge while maintaining locally-based decision-making centres".
Each cooperative is to continue with its respective activities in the regions it represents to maintain "the direct relationship with its members and to reinforce the proximity so dear to our cooperative model", the presidents said in their statement.
Both co-ops "have to go further than the business alliances that have always accompanied our development", the statement said. "We need to step up the pace to be stronger in our markets – notably internationally – to face the complex challenges of the agricultural world and ensure sustainability. We hope that other actors in agricultural co-operation will be seduced by the relevance of this new model and will join us."
Maïsadour's food processing sector is structured around divisions including agriculture, which includes grain, agricultural supplies, seeds, vegetables, animal production and nutrition. Maïsadour said it has close to 160 industrial sites including slaughterhouses and feed manufacturing sites in the south west of France. The group also has subsidiaries abroad including in Ukraine, Spain, Germany and Morocco that "strengthen and sustain outlets for our farmers".
Terres du Sud lists cereals, poultry and cattle and meat among its key business sectors.