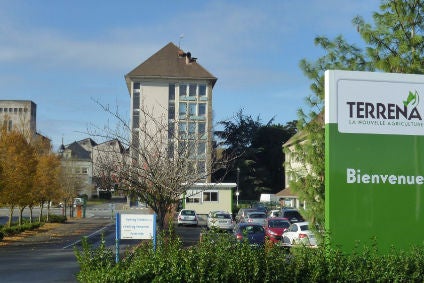 French co-operative Terrena, which earlier this year acquired poultry group Doux, has announced a three-year investment programme worth EUR150m for its expanded poultry division.
Initiatives will include the reconstruction by 2019 of an abattoir in Ancenis, in western France at a cost of EUR40m. The site will focus on premium products.
Investment will also target R&D, with a focus on developing Terrena's exports, as well as bolstering the presence of the Père Dodu brand, Doux's flagship label, in supermarkets for both pre-packed and fresh products.
Money will also be spent on modernisation work across other production plants.
"In a particularly difficult context for the farming sector, we want to invest in such a way as to offer long-term outlets for our producers," Terrena's president, Hubert Garaud, said. "We want to build a poultry business based on innovation and high value, quality products and one which is capable of defending the position of French poultry producers on European and world markets."
Terrena lays claim to being France's second biggest group in the poultry sector behind LDC and the first for exports and pre-packed products.
It markets 420,000 tonnes of poultry annually, generating a turnover EUR1.3bn.