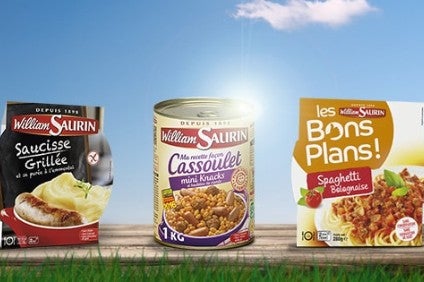 The French government is to examine the possible impact the takeover of a clutch of ready-meals assets – including the William Saurin brand – by rival manufacturer Cofigeo could have on jobs and the sector.
France's Economy and Finance Ministry is to assess the effect the proposed deal, given conditional approval today (14 June) by the country's competition watchdog, might also have "from the point of view of reasons of general interest, such as that the maintenance of employment and industrial development".
Bruno Le Maire, France's Minister of the Economy, will announce his decision on the planned transaction "within 25 working days i.e. no later than 19 July 2018", the ministry added.
Earlier today, France's competition watchdog, L'Autorité de la Concurrence, said Cofigeo could buy the ready-meals assets formerly owned by French food holding company Financiere Turenne Lafayette if it sold its Zapetti brand and a production site to protect competition within the sector.
The acquisition of the former FTL assets would see Cofigeo add brands including William Saurin, Panzani and Garbit to an existing portfolio including the Raynal & Roquelaure and Zapetti brands.
The disposals of Zapetti and production plant would "stimulate competition in the markets for the production and sale of canned Italian and exotic ready meals in France", the watchdog said in a statement.
Isabelle de Silva, the president of L'Autorité de la Concurrence, added: "The Autorité took the only decision that allowed for clearance of this strategic transaction while guaranteeing attractive prices for consumers, particularly families with modest incomes, by maintaining two competing producers capable of supplying the mass retail distribution sector with brands or private labels of canned ready meals."
Cofigeo operates primarily in the ready-meals category through the Raynal & Roquelaure and Zapetti brands, as well as private label.
If the deal for the FTL assets was waved through without any conditions, Cofigeo would have had an 80% share of the market for Italian ready meals in France and more than 70% of the "exotic" ready-meals market, the watchdog claimed.
Cofigeo did not offer any remedies to protect competition, the watchdog added.
De Silva said: "Budget canned ready meals are consumed by all segments of the French population, particularly the lowest income households. This transaction contained a price increase risk as a result of the disappearance of the current competition in the markets for meals prepared with Italian or exotic recipes. The Autorité was of the opinion that it was essential for French people to be able to continue to benefit from a broad range of canned ready meals at affordable prices, which the transaction would not have allowed for in its proposed form."
Officials at Cofigeo could not be reached for immediate comment.