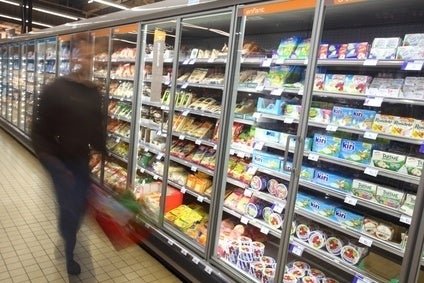 French retail body, the La Fédération des Entreprises du Commerce et de la Distribution, has unveiled its own voluntary labelling scheme, which it is planning to test by the end of the year before a full roll-out in 2016.
The Systeme d'Etiquetage Nutritionnel Simplifié is based on a four-colour code: green, for food that can be consumed often; blue for products eaten from-time-to-time; orange to advise shoppers to choose the lines in moderation; and purple for occasional consumption.
The scheme comes after a year's work between the FCD, which has members including Auchan, Carrefour, Casino and Systeme U, a scientific committee and unnamed food groups and trade bodies.
The FCD has developed SENS because of the body's strong opposition to the French government's proposed five-colour nutritional labelling scheme, the organisation's quality director, Emilie Tafournel, explained to just-food.
"The government's traffic light-type scheme stigmatises certain foods and frightens and confuses consumers whereas the FCD considers there are no bad foods per se and its scheme puts the accent on responsible consumption and consumer choice."
The govenment's voluntary scheme is one of a raft of measures in a public health bill that will be put to the vote in the French Assembly by the end of the year.
Earlier this year, France's food manufacturers' federation, the ANIA, dubbed it "simplistic", intimating its views had not been taken into account.
Regardless of whether the government's labelling scheme is adopted or not, the FCD will be going ahead with SENS, Tafournel confirmed.
"The plan is to test SENS out in stores by the end of 2015 before going live with it some time next year."