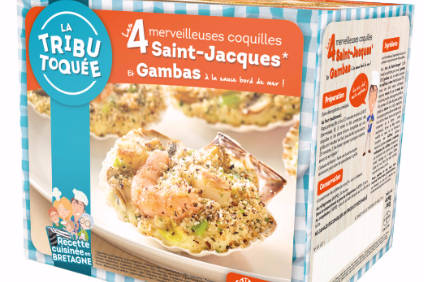 French private-label frozen ready meals maker Celtigel is to launch its own branded range.
The La Tribu Toquée range is made up of three recipes – Alaskan hake in a sauce Parisienne, Saint-Jacques scallops in sauce Breizh and Saint-Jacques and gambas scallops in sauce bord de mer – each served in shells.
"We've limited the launch of the Tribu Toquée brand to supermarkets in western France, notably in Leclerc and Système U outlets, with Intermarché set to follow. Depending on how the range is received, we could market it further afield in France,"a spokesperson for Celtigel, a subsidiary of Brittany-based food Groupe Le Graet, told just-food.
"Launching our own brand marks a departure for us and the aim is give fresh impetus to the frozen ready meals segment which in general has been flat in terms of sales of late."
Celtigel is set to add more products to the Tribu Toquée range in January, the spokesperson added.
The company's own-label customers include Leclerc, Carrefour Aldi and Lidl.