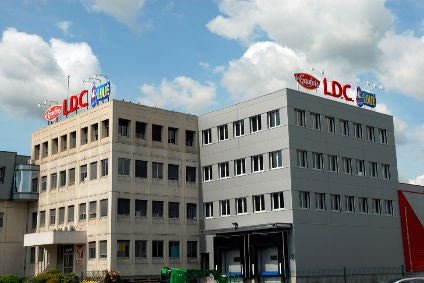 France-based poultry processor LDC has forecast a 5% increase in annual operating profit after reporting higher first-half sales and earnings.
The company posted net income of EUR63.6m (US$67.1m) for the six months to the end of September, compared to EUR57.2m a year earlier. Operating income stood at EUR91.5m, up from EUR84m a year ago.
LDC's turnover rose 3.2% to EUR1.73bn, helped in part by M&A activity and exchange rates. Stripping out those factors, turnover grew 1.6%.
The group called the results "satisfactory in a still favourable commodity context".
Turnover from LDC's domestic poultry business rose 3.3% to EUR1.26bn, boosted by the acquisition of two poultry plants from Agrial, the French agri-food co-op, last year. Underlying sales inched up 0.7%.
LDC said turnover from its international business fell 7.4% to EUR106.1m, or by 2% at constant exchange rates, as the company switched its focus to more added-value products.
Turnover from LDC's deli business, which includes pies, pizzas and pastries, increased 6% to EUR260.5m.
"For the 2016-2017 financial year, the group has set a target for EBIT to rise by around 5% depending on the success of the year-end holidays and the evolution of commodity prices," LDC said.