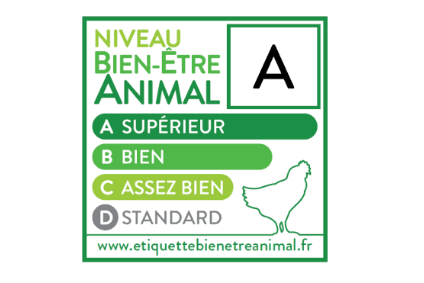 French retailer Casino Group has partnered with three independent bodies to provide animal-welfare labelling on its products, offering more transparency to consumers.
The system has been researched for the past two years and will provide four levels pertaining to animal welfare from A to D, with the latter representing the standard legislation currently in force. The first three grades, meanwhile, "guarantee a significant improvement" of the animal's welfare.
The Géant Casino and Supermarchés Casino chains will be the first to display the labelling system on chicken products from the Casino Terre & Saveurs brand from the 10 December.
Casino Group teamed up with the French division of Compassion In World Farming (CIWF), and the non-governmental organisations for animal welfare, La Fondation Droit Animal (LFDA) and Œuvre d'Assistance aux bêtes d'Abattoirs (OABA) to devise the labelling system. The aim is to offer consumers more transparency into an animal's life, from birth through breeding, to transport and slaughter conditions, based on 230 animal-welfare criteria.
Tina Schuler, the CEO of the Leader Price, Casino Supermarchés, Géant Casino and Casino Proximités chains, said the retailer will seek to expand the system to other broiler chickens within its poultry offerings, and also "beyond the perimeter of Casino products as well".
Matthew Riche, the director for corporate social responsibility, explained: "We are currently thinking about implementing an associative structure which would support the approach of animal-welfare labelling and would integrate new actors who wish to label their products according to the established reference table."
Amélie Legrand, who is in charge of agri-business affairs at CIWF France, added the labelling system will provide "precise and reliable information" to consumers, helping them make more informed choices when shopping.