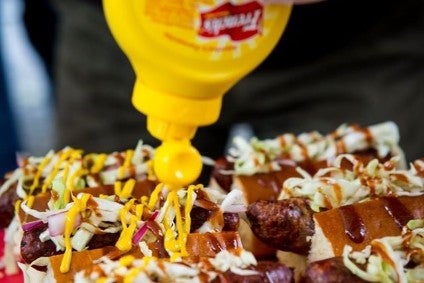 Reckitt Benckiser, the UK consumer goods group set to buy infant formula business Mead Johnson, said today (3 April) it was considering the future of its food division, which includes mustard brand French's.
The announcement followed a report over the weekend Reckitt Benckiser was looking to sell the unit, which also includes Frank's Red Hot sauce.
The London-listed group said it was starting a "strategic review" of the unit, which it described as "non-core".
"French's Food is a truly fantastic business with great brands, people and a history of out-performance. It is nevertheless non-core to RB. We have therefore decided to initiate a strategic review of food where we will explore all options for this great business," Reckitt Benckiser said. "RB will update the market going forward, when appropriate."
The announcement this morning followed a report yesterday by The Sunday Times, which said Reckitt Benckiser had told banks it planned to offload the business and had started to interview advisers to work with the company on a sale.
Shore Capital analyst Darren Shirley described Reckitt Benckiser's food division as "in good health", pointing to the 5% rise in sales – at constant currencies – from the unit in the group's last financial year. Shirley said the division's sales reached GBP411m and contributed EBIT of GBP118m, with an EBIT margin of 28.7%.
However, he added: "Press speculation suggests proceeds could reach GBP2.4bn, which would imply an EBIT multiple of 20-21 times and appears a little demanding in our view against a global peer group valuation range in the mid-high teens."
Reckitt Benckiser announced a deal to buy Mead Johnson in February. The company said it expects the US$17.9bn takeover of the Enfamil maker to be finalised by the end of the third quarter of the year.
Why Reckitt Benckiser has moved for Mead Johnson – just-food analysis from February 2017