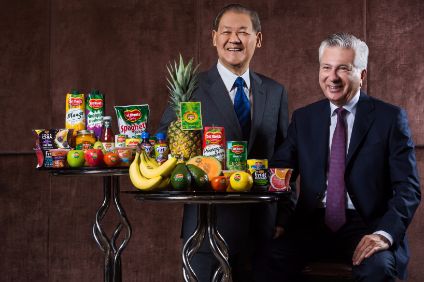 US-based Fresh Del Monte and Asia-based peer Del Monte Pacific have settled legal action between the two businesses and moved to form a joint venture to market chilled products in the retail sector.
The companies said the venture, which will initially focus on the US, had been "facilitated by the full and final settlement of all active litigation between Del Monte Pacific and its subsidiary Del Monte Foods on the one hand, and Fresh Del Monte Produce on the other hand, effective immediately". The legal tussles had centred on licensing rights and distribution.
The businesses will work together in selling chilled food, at first in the US but with "potential" to move into other markets, they said. Refrigerated fruit snacks, guacamole and avocado products are among the foods the companies are developing.
Fresh Del Monte and Del Monte Pacific will also look to develop Del Monte branded retail outlets, modelled on a concept built by the US business in the Middle East. The retail venture will also initially focus on the US.
"This partnership offers tremendous opportunities for both companies to innovate on a much broader and deeper scale either company can accomplish individually," Mohammad Abu-Ghazaleh, the chairman and CEO of Fresh Del Monte Produce, said. "Each company brings a high level of knowledge, experience and commitment that comes from developing and building the iconic, trusted Del Monte brand. We also share similar visions for creating products and experiences that will meet the evolving needs of today's consumer."
Del Monte Pacific chairman Rolando Gapud added: "We are pleased that we have resolved our differences and put to rest the financial uncertainty that can arise from prolonged litigation. We look forward to combining the resources of Del Monte Pacific, our US subsidiary Del Monte Foods, and Fresh Del Monte Produce, and focusing our joint efforts on exciting new business opportunities that will provide consumers with more premium quality, healthy products."