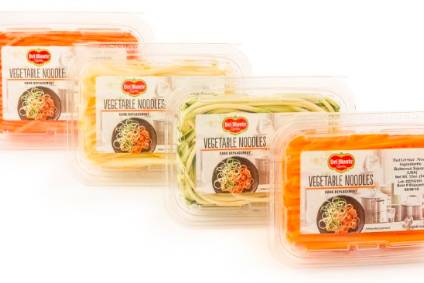 Fresh Del Monte Produce is launching a line of vegetable noodles in North America.
The range consists of six varieties: zucchini, butternut squash, sweet potato, beet, yellow squash and carrot.
"We are excited to bring our pre-cut vegetable noodle concept to grocery stores and markets across the country," said Dennis Christou, the company's vice president of marketing. "They are the perfect pasta alternative for healthy eaters and an easy, fun way for consumers to increase vegetable consumption."
Fresh Del Monte said the noodles are pre-cut and ready to add to salads, saute, or boil. The company said the range has been developed in response to demand for "healthy alternatives to carb-heavy products". The noodles are preservative free and come conveniently packaged and ready to cook or serve.
In November, the company said that its sales increased during the third quarter thanks, in part, to rising sales of its fresh-cut prepared fruit and vegetable products.