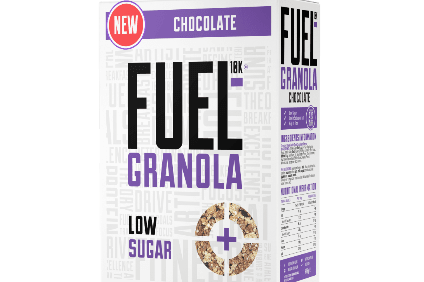 UK-based Fresh Marketing is launching a range of low-sugar granola under its Fuel 10K breakfast brand.
The new product, which will be available across Tesco stores in the UK from the end of next month, comes in two flavours – chocolate, as well as apple and cinnamon. Fresh Marketing said the range offers 3.8g and 4.8g sugar per 100g respectively, making the chocolate line "the lowest sugar granola in UK mainstream grocery".
Fuel 10K added: "The mix of natural sugars and oligofructose – derived from root vegetables – along with added cocoa and pieces of apple and cinnamon combine to create a healthier and tasty breakfast."
The RRP for the new product is GBP2.99 (US$3.87) per 400g.
The company, meanwhile, said Tesco had taken on six more Fuel 10K SKUs.
Scott Chassels, who has recently been appointed MD of Fuel 10K after three years with the business, said: "After a barrage of new granolas arriving about two years ago it is great to see our brand find more space. Tesco has two of our black protein granolas and in a bold move has listed our new low sugar granolas in over 500 stores, a great boost for the brand.
"Consumers are looking for convenient and nutritionally sound breakfasts and Fuel 10K is delivering on all fronts. In addition to Tesco, we recently secured new listings with Waitrose and Ocado; gained a 40% increase in distribution with Asda; Morrisons takes two granolas in July; doubled our distribution with the Co-Op: and won a major boost from Sainsbury's."
Chassels said Fuel 10K shoppers "are younger than the average breakfast consumer and they tend to spend more in the category".
Fresh Marketing co-owner Barney Mauleverer on sugar, Brexit and growth – the bitesize interview from September 2016