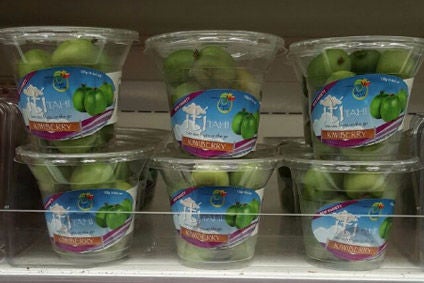 Australian produce company Freshmax Group is launching ready-to-eat kiwiberries in a snack pack in the Singapore market.
The company said that the snack cup package makes the kiwiberries a "great on the go snack option".
Tracey Burns, Freshmax export manager, said that the new product has been well received by Frashmax's distribution partner in the Chinese market. "Our distributor has been extremely pleased with this product launch. The innovation alongside the great tasting fruit is a winner for all parties. Creating a packaging option outside the standard berry punnet draws great interest from the trade and consumers. It stands out on shelf and is an ideal grab and go solution for people looking for a healthy snack."
Freshmax exports fresh produce to over 25 international markets. The company has expanded rapidly over the last four years, with acquisitions including Holman Fresh, OzTaste, Panda Ranch, De Luca and Valleyfresh in Australia and Valleyfresh North America. The firm merged with New Zealand's Crasborn Group in 2014.