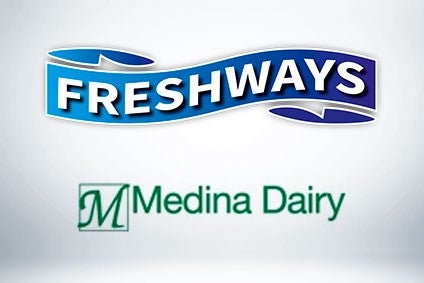 UK dairy companies Freshways and Medina have entered discussions over a possible merger amid challenges revolving around declining milk prices and the "dominance of two major national players".
In a joint statement today (23 February), Freshways Dairy and Medina Dairy said "they are examining the potential to establish a sustainable and progressive dairy business that will be in the best interests of their combined staff, customers and the British dairy farmers that supply them".
Freshways, based in Acton, London, and Medina, located in Windsor, Berkshire, just outside the UK capital, added they are discussing "whether a potential merger will create the basis for a viable, long-term, fresh liquid-milk business".
Any agreement will need approval from the UK's Competition and Markets Authority, they said.
Freshways is owned by Nijjar Group Holdings and produces a full range of dairy products including fresh milk, butter and spreads, yogurt, cream, eggs and cheese. It also supplies bread and flatbreads. Medina is present in fresh milk and bread. Both companies serve the retail and foodservice sectors in the UK. Germany-based Unternehmensgruppe Theo Müller and Denmark's Arla Foods are the two biggest milk suppliers in the UK.
Bali Nijjar, the managing director of Freshways, said: "We are very excited about the possibility of entering into a partnership with the Medina Group, as we believe that the two companies have complementary structures and cultures, which will mean we are able to compete even more effectively with the two large players which dominate the dairy sector in the UK."
While the talks between the two parties are ongoing, the statement noted that "an entity linked to Freshways has taken security to protect arrangements with the Medina Group, documented by a charge registered at Companies House on 19 February 2021."
It continued: "The confidential terms of those arrangements do not give Freshways any control over the day-to-day operations of Medina and the Medina Group remains wholly independent."
A spokesperson on behalf of the companies declined to explain those arrangements further, other than to say: "Freshways has been undertaking some bottling of fresh liquid milk on behalf of Medina."
Sheazad Hussain, CEO of Medina, added: "We are looking forward to working with the directors of the Freshways business to explore the possibilities of a merger. In doing so, our joint objective will be to create a business that is leaner, more agile and fit for purpose. One that will benefit customers, consumers and suppliers and will ultimately be well placed to grow and develop in a sustainable manner for the long term."