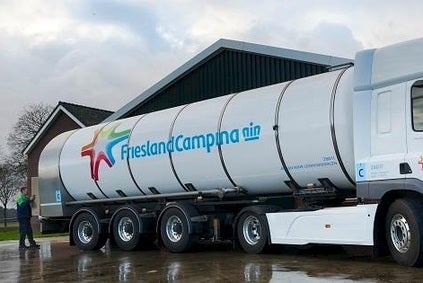 FrieslandCampina said today (12 March) it would not make "any concrete predictions" about its results for 2015 amid uncertainty in emerging markets and the prospect of increasing competition in Europe.
The Dutch dairy giant saw its underlying profits tumble in 2014 amid the Russian boycott on EU dairy products and lower demand for milk powder in China and south-east Asia.
Providing its assessment of the year ahead alongside its numbers for 2014, FrieslandCampina said it "anticipated" the demand for dairy products to increase "slightly". Economic recovery in Asia and Africa would benefit the regions' growing middle classes and the fall in the value of the euro would make the company's products more competitive on export markets.
However, FrieslandCampina said: "China's need for dairy products and raw materials is difficult to estimate. Whether, or when, the Russian boycott of western agricultural products will be lifted is equally unpredictable. But even if the boycott is lifted, demand in Russia is not expected to recover quickly. Consumers in Europe will remain price-conscious and, in part as a result of this, the competition from other suppliers and private labels will continue increasing."
It added: "In view of the uncertainties mentioned FrieslandCampina is not making any concrete predictions regarding the expected results for 2015. Taking a longer-term view the outlook remains positive. As the world's population grows and welfare increases in many regions the demand for food, and in particular food rich in nutrients including dairy products, will continue rising."
FrieslandCampina booked net profit, excluding one-off charges and the effect of foreign exchange, of EUR284m (US$301.6m) for 2014, down 13.1% on 2013. Operating profit measured on that basis dropped 10.7% to EUR458m.
Revenue inched up 0.6% to EUR11.35bn.
Outgoing CEO Cees 't Hart said: "In 2014 Royal FrieslandCampina's results were more influenced by external conditions than in other years. The year 2014 could accurately be described as dynamic. Although the disappearance of the EU milk quota will quite possibly lead to even more volatility on the dairy market, the prospects for FrieslandCampina and the member dairy farmers remain positive. The company is well positioned."
FrieslandCampina announced last month 't Hart had accepted the role of CEO at brewing group Carlsberg. Roelof Joosten, the COO of FrieslandCampina's ingredients arm, will succeed 't Hart.